Presentation
History
Venous lakes most commonly occur in adults older than 50 years with a history of long-term sun exposure. The typical presentation is a slow-growing asymptomatic lesion. Patients with venous lakes may report that the papule has been present for several years prior to presentation. Recurrent bleeding after minor trauma may also be reported.
Physical Examination
Physical examination usually reveals a soft, compressible, dark-blue or violaceous papule (slightly elevated lesion), up to 1 cm in diameter. Venous lakes usually are well demarcated, with a smooth surface. Compression often causes a emptying of the blood content. Venous lakes typically are distributed on the sun-exposed surfaces of the face and neck, especially on the helix and antihelix of the ear and the posterior aspect of the pinna, as shown in the image below. Another common site of involvement is the vermilion border of the lower lip, shown below. Sometimes, several lesions are found on the same person, and the surrounding skin reveals actinic damage, as shown below.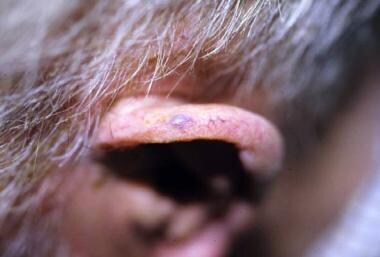 Venous lake on the helix of the ear.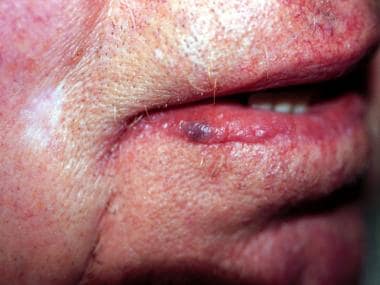 Venous lake on the lower lip.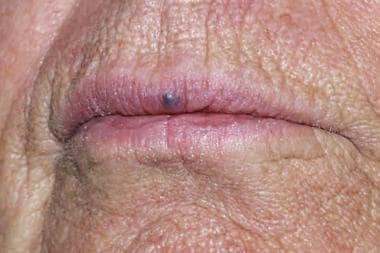 Venous lake of the lip. Note the apparent actinic damage of the surrounding skin. Courtesy of Albert C. Yan, MD.
Causes
Two main theories regarding the development of venous lakes have been proposed. The first involves injury to the vascular adventitia and the dermal elastic tissue due to long-term solar damage permitting dilatation of superficial venous structures. The second theory involves the involvement of vascular thrombosis in the development of venous lakes. Thrombosis is commonly present in lesions of this type; however, whether the thromboses is a primary or a secondary event in the development of these lesions is unclear.
What would you like to print?