Presentation
History
The cutaneous manifestations of Cobb syndrome typically present as port-wine stains (PWSs) in a dermatomal distribution on the trunk. [5] Other cutaneous vascular malformations, including angiomas, angiokeratomas, [6] angiolipomas, cavernous hemangiomas, [7] and lymphangioma circumscriptum, have also been less frequently reported. [8] The intraspinal lesions are most commonly arteriovenous malformations (AVMs). [9]
Kyphoscoliosis may occur if the spinal lesion involves the vertebral bodies.
Physical Examination
Vascular cutaneous lesions are in a dermatomal distribution. See the images below.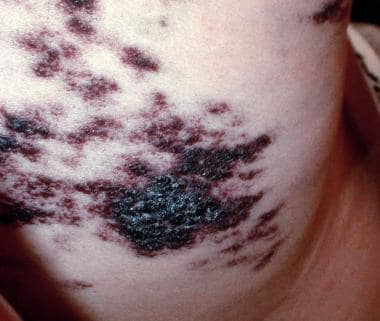 Cutaneous vascular lesions. Courtesy of L. Cooke, MD.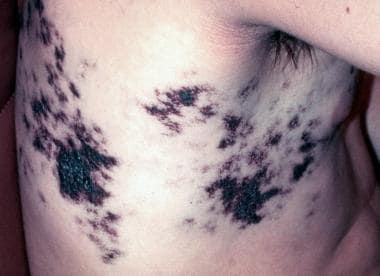 Cutaneous vascular lesions. Courtesy of L. Cooke, MD.
Midline back lesions may be associated with spina bifida.
The cutaneous vascular lesions may be subtle. These lesions may become more pronounced and more easily identifiable when the patient performs the Valsalva maneuver.
A thorough neurologic examination may show deficits, depending on the severity of the spinal pathology.
Complications
Patients may develop neurological deficits, including paralysis resulting from mass effect or hemorrhage of a vascular spinal lesion.
If thrombosis occurs within an arteriovenous malformation (AVM), subacute necrotic myelopathy or Foix-Alajouanine disease may develop. [10, 11]
What would you like to print?