Workup
Imaging Studies
MRI is likely the most effective study, although CT scanning, plain radiography, and angiography can provide useful information. In addition, ultrasound may be useful in newborns and young infants. [12] MR angiography (MRA) has also been shown to improve sensitivity in detecting spinal vascular malformations. [13]
Associated vascular lesions can be located within the spinal cord itself (intramedullary), outside the cord but within the spinal canal (extramedullary), or extraspinal, including the paravertebral soft tissues. Overall, spinal arteriovenous malformations (AVMs) are classified into four subtypes. Cobb Syndrome is associated with type 3 AVMs.
In the imaging example provided below, the vascular malformation is seen within the intramedullary and extramedullary portions of the spinal canal. Multiple punctate foci of low signal within the lesion represent flow voids, which are characteristic. The intrinsic T2 hyperintensity within the lesion is characteristic as well. Low signal along the superior and inferior aspects of the lesion are not specific, but may represent old blood products.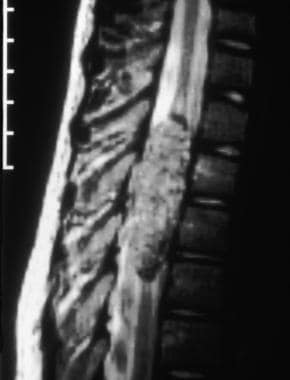 MRI of spinal vascular lesion. Courtesy of L. Cooke, MD.
What would you like to print?