Presentation
History
Most tufted angiomas develop by the time the patient is aged 1 year, although a number of juvenile and adult cases have been reported. Tufted angiomas typically manifest as firm, dark-red, reddish-brown, or violet plaques and/or nodules with poorly defined borders. Their size is variable, ranging from less than 1 cm to over 10 cm in diameter. [29]
At birth, the lesions are usually barely evident as slight-pink or brown discoloration with an ill-defined border. Over 1-10 years, the area thickens into a red or violet plaque or patch that can form nodules and papules. Eventually, the tumors tend to stabilize and remain that size indefinitely. Some cases have reported partial or total regression of the tumor during childhood. [30, 31]
Most reported tumors occur on the trunk, arms, and legs, while tumors of the face and scalp are rare. [29] Involvement of the feet and oral mucosa is observed, but only in rare cases. [32, 33] Hypertrichosis with lanugo hairs and hyperhidrosis is often observed overlying the tumor. [29]
Generally, the lesion is described as solitary. However, multifocal or disseminated presentations are reported. In immunosuppressed patients, a rare eruptive form of tufted angiomas has been described. [34] Approximately 10% of patients with tufted angiomas develop the life-threatening Kasabach-Merritt syndrome.
Many tufted angiomas are associated with painful episodes as they increase in size.
Physical Examination
A tufted angioma appears as a purplish-red to red-brown patch or plaque that predominantly appears on the upper thorax; neck; shoulders; and, less commonly, on the face, scalp, and proximal extremities. [35, 36]
The diameter of the patch or plaque generally ranges from less than 1 cm to over 10 cm. The tufted angioma may be solitary (most common) or multifocal (rare), and it can be round to polycyclic in more extensive cases (see the image below). The border is always ill defined.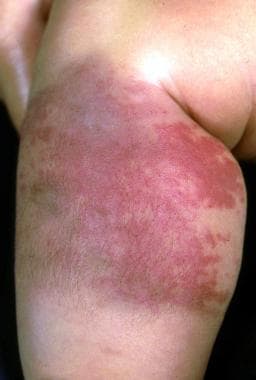 This lesion is a tufted angioma in a 1-year-old girl. Present since birth, this bluish-red hemangioma-like plaque on the patient's right upper leg slowly enlarged and became tender during the month prior to presentation. The child was otherwise well. A skin biopsy specimen revealed dilated congested capillaries in the lower dermis and subcutis. Clusters of capillaries with hyperplastic endothelial cells were also scattered in the mid and upper parts of the dermis. The epidermis revealed a slight basket-weave orthokeratosis, with minimal acanthosis, and papillomatosis. The patient was treated conservatively with only observation. The lesion remained stable and did not progress since presentation. Courtesy of National Skin Centre, Singapore.
On palpation, tufted angiomas often have a rubbery consistency, and they may be painful.
Ulceration is rare; this finding may be predicted from its slow rate of growth.
Hyperhidrosis of the skin overlying the area of the tufted angioma is reported. Histologically, hyperhidrosis corresponds with areas of abundant eccrine glands. [19]
Peripheral extension occurs, and lesions of tufted angioma are described as having a thick, indurated border and a central depression, with an appearance similar to that of a doughnut. [5] Tufted angioma lesions may also appear as deep-red or purple patches with scattered round-to-oval, dark-red nodules on their surface.
Complications
In approximately 10% of cases, tufted angiomas are associated with a serious life-threatening platelet-trapping syndrome, called Kasabach-Merritt syndrome (KMS). Suspect Kasabach-Merritt syndrome in patients with tufted angioma in whom ecchymotic patches, thrombocytopenia, and/or blood-clotting abnormalities develop. In this setting, rapid enlargement of the lesion accompanied by pain and ecchymosis is the presenting sign of KMS. [37] Along with these signs, the patient has severe thrombocytopenia (3,000-60,000/µL, low fibrinogen levels (< 1 g/L), and elevated D-dimer and fibrin degradation products. Hemorrhage is rare, but trauma to the tumor (via biopsy, surgery, or infection) or delay in management could result in progression to disseminated intravascular coagulation (DIC). [27] Responses to a variety of appropriate treatment modalities are noted in patients with Kasabach-Merritt syndrome and tufted angioma. [37, 38]
What would you like to print?