Presentation
History
In most cases, the first manifestation of Degos disease is an eruption. A single center study of 39 patients with atrophic papulosis was performed by Theodoridis et al. [26] The manifestation of a cutaneous eruption always defined the onset of disease. The mean age of onset appeared to be 35.4 ± 12.3 years. The female-to-male ratio was 1.4:1. Familial occurrence was noted in 9% of cases. This study noted systemic signs in 29% of patients, appearing at 1 year (0.03-0.97 quantiles: 0-7 y). Theodoridis determined that the cohorts' prognosis was primarily determined by the existence of systemic involvement. Of patients with systemic manifestations, 73% developed intestinal perforation and died. None of the patients with only skin disease died. The cumulative 5-year survival rate in patients with systemic disease was reported at 54.5%.
Some have stated that the disease involves the skin as the sole clinical manifestation in 37% of patients. The gastrointestinal tract is involved in about 50% of patients.
Patients may have a family history of Degos disease. In 1997, Katz et al [15] described a familial variant of Degos disease.
Degos disease associated with a spontaneous cure of diabetes has been reported. [27]
Patients with Degos disease may have a history of a variety of abdominal complaints, manifesting with abdominal pain, abdominal distention, cramps, nausea, vomiting, diarrhea, or constipation. Sometimes, patients may state that they experience weakness, fatigue, or weight loss, or symptoms of malabsorption.
Degos disease has been associated with systemic diseases. Degos disease has occurred in patients with rheumatoid arthritis, HIV infection, and antiphospholipid antibodies and antiphospholipid syndrome. [28]
Patients may have a history of a variety of neurologic complaints that include facial and acral paresthesia, headaches, dizziness, seizures, hemiplegia, aphasia, paraplegia, and gaze palsy.
Patients may have a variety of eye problems, including diplopia, ptosis, and visual-field defects.
Patients may experience weakness, shortness of breath, and chest pain.
Inflammatory linear vasculopathy mimicking Degos disease has been described. This is important to note because Degos disease mimicking vasculitis has been described.
Saglik et al [29] noted a case of malignant atrophic papulosis with endocardial involvement and positive anticardiolipin antibodies.
A case of Degos disease occurring with diabetes mellitus, with biopsy findings of both Degos disease and hyaline diabetic microangiopathy, has been reported. [30]
Parvovirus B19–associated catastrophic endothelialitis with a Degos-like presentation has been noted. [31]
The benign variant developing during pregnancy has been described. [32]
Poststreptococcal vasculopathy that evolved into Degos disease–like white papules has been reported. [33]
Ortiz et al reported a case of cutaneous Degos disease that showed features of connective-tissue disease; a specific connective-tissue disease never developed in the patient. [34]
Physical Examination
The main physical finding of Degos disease is a skin rash that manifests with porcelain white scars. Degos disease also affects the eyes, the intestines, the brain, and other organs with a variety of physical findings.
The most visible manifestation of Degos disease is in the skin.
Degos disease manifests with (in most cases) multiple, small, red, raised papules that are 2-5 mm in diameter. After a few days, they enlarge and develop a central white spot that is depressed in comparison to the red skin around it, as shown in the images below. They heal, leaving depressed porcelain white scars with a rim of telangiectases. Note the images below.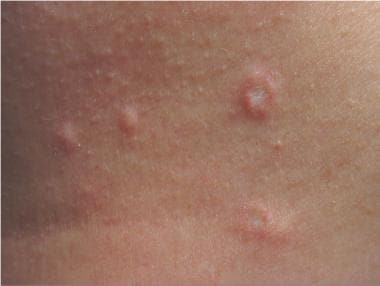 Four papules of Degos disease located on upper-inner arm in different stages of evolution. Courtesy of David F. Butler, MD.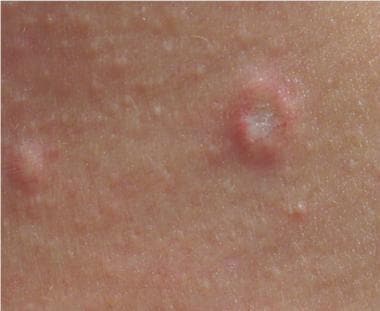 Papule of Degos disease with central sclerosis and telangiectasia. Courtesy of David F. Butler, MD.
The papules predominantly occur on the trunk and the arms. Degos papules commonly manifest on the penis. [23]
Degos more rarely occurs on the palms and soles. [23] One case has noted that Degos occurred on the scalp. No cases known to the author note Degos disease-type papules on the face.
In a 17-month-old child, progressive involvement of the fingers and the toes with torpid ulcers and apical necrotic amputations has been reported.
Peristomal lesions have been reported.
The rash of Degos disease develops slowly and is usually mostly asymptomatic, but it may be accompanied by a slight burning sensation. The rash can arise anywhere except on the soles, the palms, and the face. The rash starts as pink or red papules that are 2-15 mm in diameter. The papules evolve into atrophic scars that are porcelain white. Sometimes, abdominal symptoms precede the rash, but this finding is uncommon. [35]
A variety of ocular findings occur in Degos disease. Posterior subcapsular cataracts, [36] visual field defects, ptosis, third cranial nerve palsies, blepharoptosis, and optic atrophy may be associated with Degos disease. Optical neuritis, papilledema, and scleral plaques can be present. [37] In 1986, Sibillat et al [38] reported that ophthalmologic symptoms were present in 35 of 105 extant reports of Degos disease. Degos disease manifested in the eye tissues, usually in the conjunctiva. The sclera, the episclera, the retina, the choroid, the optic nerve, and/or the neuro-ophthalmologic apparatus demonstrated damage consonant with Degos disease.
Constrictive pericarditis has been reported in Degos disease. This condition might be induced by pericardial vasculitis, thereby causing the left ventricular wall motion abnormality.
The lungs can be affected in Degos disease. Pulmonary manifestations include pleuritis and bilateral pleural effusions.
The liver and the kidneys may be involved and associated with a vasculitis.
The brain and the nerves can be affected in Degos disease. In 1 patient with Degos disease, the neurologic examination revealed a right-hemianopsia, paraparesis (with a sensory level at Th12), and a neurogenic bladder. In another patient, an ascending thoracic myelopathy was present. In 1996, at the Mayo Clinic, Subbiah et al [22] described a series of 15 patients. Ten patients developed neurologic manifestations. These findings included fatal hemorrhagic or ischemic strokes in 5, disabling polyradiculoneuropathy in 1, and nonspecific neurologic symptoms without objective findings in 4. Other manifestations include strokes, headaches, epilepsy, or nonspecific neurologic symptoms (eg, memory loss, altered sensation).
Patients experience abdominal pain. Gastrointestinal bleeding can result in vomiting blood or passing blood with bowel movements. Patients with Degos disease may have enterocutaneous fistulae.
Causes
The cause of Degos disease is unknown. Suggested causes include a virus, an immune defect, or a clotting defect.
Complications
Complications of Degos disease include the following:
Gastrointestinal bleeding and perforation

Neurologic bleeding and collapse

Cardiac pathologic conditions

Pulmonary pathologic conditions
What would you like to print?