Presentation
History
Black heel (calcaneal petechiae) occurs in adolescents and young adults who participate in sports that involve frequent starts and stops, such as basketball, football, soccer, lacrosse, and racquet sports. Additionally, constant pounding on hard surfaces causes injury of the heel against the back of the shoe in runners. [9]
Patients present with an irregular dark macule over the heel, as shown in the image below.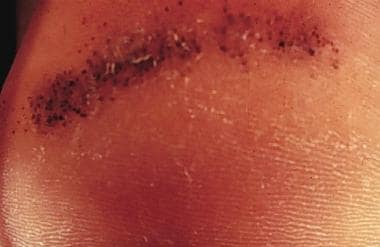 Linear petechiae on the heel, characteristic of black heel.
The lesion usually is asymptomatic and does not inhibit the patient from performing routine daily activities. The patient may or may not relate the onset of the lesions to participation in sports.
Physical Examination
Examination reveals a blue-to-black macule or patch ranging in size from a few millimeters to several centimeters in diameter. The posterior and posterolateral heel are affected most commonly. On close inspection, multiple petechiae are centrally aggregated with a few scattered satellite macules. The dyschromia often is in a horizontal distribution; however, both circular and oval lesions may occur.
What would you like to print?