Presentation
History
A patient history of excessive exposure to heat in the area of onset facilitates clinical diagnosis of erythema ab igne. [26, 29, 30, 31, 32] The duration of the repeated exposure necessary to provoke alterations in the skin varies from months to several years, and the damage appears to be cumulative. [33] Commonly, patients with erythema ab igne report mild pruritus and burning.
Erythema ab igne is associated with the following:
Slight increase in malignancy when the etiology is due to a hydrocarbon heat source

Actinic keratosis and squamous cell carcinomas in a number of cases after a long latent period: These include cases from the chronic heat of a sunken hearth (irori) and underfloor braziers covered with a quilt (kotatsu). [34]

Heated brick beds in northern China (kang cancers) [34]

Coal-burning baskets in Kashmir in India (kangri cancers) [34]

Peat fire cancers in Ireland

Benzene-burning pots in Japan (kairo cancers) [34]
Physical Examination
The initial presentation is a transient macular erythema in a broad, reticulated pattern that easily blanches. Mild elevation of skin temperature initially results in mild, transient, often reticulated erythema. With prolonged and repeated exposure, areas of reticular erythema persist and, in time, become livid and hyperpigmented. The entire size and shape of the lesion often approximates that of the heat source. See the images below.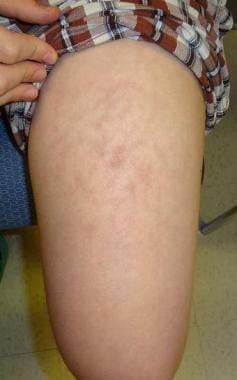 Red rash resembling lacework or a fishing net on leg.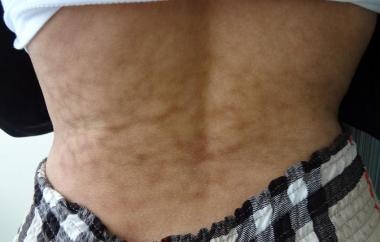 Red rash resembling lacework or a fishing net on back.
As the heat exposure continues over time, the erythema evolves into a dusky hyperpigmentation, with lesions fixed and no longer blanchable. Epidermal atrophy may overlie the reticulated pigmentation. Later-stage lesions may become somewhat keratotic, and bullae may appear. Lesions are characteristically asymptomatic, although a slight burning sensation is sometimes noted.
Once the heat source is identified, it is important to determine if it is being used to relieve pain and, if so, the cause of the pain. A lumbosacral location usually suggests musculoskeletal disease or, less often, bony metastases. Erythema ab igne of the abdomen, flank, or mid back may reflect an attempt to relieve pain from inflammation. It may be the only cutaneous manifestation of splenomegaly, pancreatitis, peptic ulcer disease, pancreatic pseudocyst, or pancreatic or gastric cancer. [34, 19] Other unusual sites such as the thigh, pubic area, and upper back can suggest underlying malignancy such as gastric and renal carcinoma, as well as bony metastases.
Symptoms of pain should prompt a thorough review of systems and consideration of a search for occult disease. An inquiry into occupation and hobbies is also important because erythema ab igne can develop in exposed areas (eg, forearms of bakers, face or arms of glass blowers and foundry workers).
The possible development of cutaneous squamous cell carcinoma or Merkel cell carcinoma represents the major long-term risk. [3, 19, 20] The latent period may be 30 years or more. Apparently, the risk of developing squamous cell carcinoma is highest with hydrocarbon-fueled heat exposures, which may include peat fire cancers on the shins of women, Japanese kairo cancers and Tibetan kangri ulcers due to coal-fired clothing warmers, and Chinese kang cancers from sleeping on coal-fire-heated bricks. [34]
It has been recently reported that bullous erythema ab igne can be associated with normochromic normocytic anemia and subclinical hypothyroidism [35] and eating disorders. [36] Additionally, cutaneous reactive angiomatosis and poorly differentiated carcinoma have been reported to arise at the site of erythema ab igne. [37, 38]
Rarely, areas affected by erythema ab igne may become bullous or hyperkeratotic [39] ; in patients with severe long-standing erythema ab igne, poikilodermatous changes may result. Some believe that a bullous variant of erythema ab igne exists, in which bullae and crusts are present on a base of reticulated erythema. [3, 34, 19, 20] Other clinical variants of erythema ab igne are as follows:
Bullous lichen planus arising in an area of erythema ab igne

Hypertrophic erythema ab igne associated with lymphedema

Keloidal erythema ab igne associated with lymphedema
Complications
Malignant degeneration may occur and should be monitored.
What would you like to print?