Presentation
History
Most patients with pernio present with a history of recurrent painful and/or pruritic, erythematous, violaceous papules or nodules on the fingers and/or toes. Most cases of pernio resolve within 2-3 weeks. Elicit a history of cold exposure or repeated episodes of cold exposure.
Physical Examination
Pertinent findings in pernio are limited to the skin. Cutaneous pernio lesions present 12-24 hours after cold exposure as red or violaceous macules, papules, nodules, or plaques, which may form vesicles or ulcerate. Pernio lesions occur on acral areas, are associated with burning or pruritus, and last 1-3 weeks. Note the images below.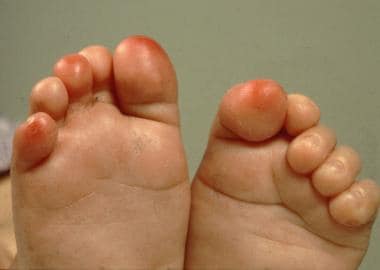 Close-up of erythematous macules and plaques on distal plantar toes.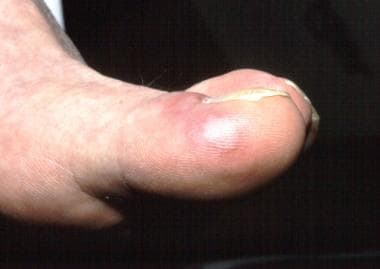 Close-up of great toe bulla.
Complications
Pernio lesions that blister may become secondarily infected.
What would you like to print?