Presentation
History
Prurigo nodularis patients are most often middle-aged to elderly. Patients with prurigo nodularis invariably complain of a long-standing history of severe, unremitting pruritus. Patients can point out specific sites where they began feeling itchy and where dark-colored nodules form soon after. Mature nodules rarely increase or decrease in size; spontaneous resolution is even more rare. Prurigo nodularis is usually bilaterally symmetric, with nodules that are either stable or increasing in number.
Umbilicated prurigo has identical clinical and microscopic features of acquired reactive perforating dermatosis and classical components of prurigo nodularis. Umbilicated prurigo meets all the histologic criteria for prurigo nodularis, which increases the consideration of it being a subtype of prurigo nodularis. Umbilicated prurigo is assumed to develop preferentially in the context of metabolic disease, such as diabetes mellitus or uremia, owing to these patients' reduced wound healing capacities. [16]
The patient's medical history may be significant for several conditions, as follows:
Hepatic or renal dysfunction

Local trauma or insult to the skin

HIV/immunodeficiency [17]

Hematologic malignancies [18]

Anxiety or other psychiatric conditions
Patients may have no significant medical or psychiatric history. The patient's history often reveals a long list of over-the-counter and/or prescribed medications (topical and oral), which usually have produced little or no relief of symptoms. Up to 80% of patients have a personal or family history of atopic dermatitis, asthma, or hay fever (compared with approximately 25% of the normal population).
Physical Examination
Prurigo nodularis nodules or papules are 3-20 mm in diameter; they are discrete, scaly, generally symmetric, hyperpigmented or purpuric, and firm. The itchy nodules and papules occur on the extensor surfaces of the arms, the legs, and sometimes the trunk.
Prurigo nodularis lesions may show signs of excoriation with flat, umbilicated, or crusted top. Lesions may number from 1-2 to hundreds. The nodule pattern may be follicular. Upon entering the examination room and while patients' describe the locations of the lesions, patients may scratch or rub the lesions rather than pointing to them. Many prurigo nodularis patients appear very anxious, worried, or even obsessed with the nodules. Note the images below.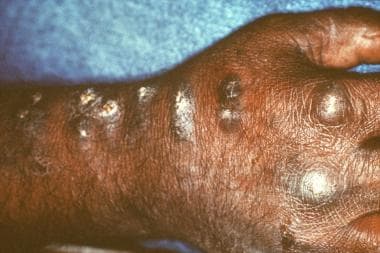 Prurigo nodularis. Courtesy of Jeffrey Meffert, MD.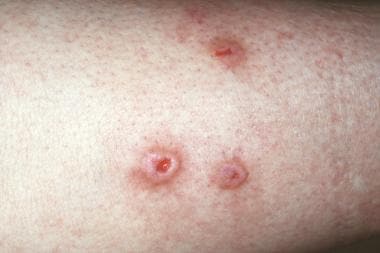 Prurigo nodularis. Courtesy of Jeffrey Meffert, MD.
Complications
Some healed lesions show pigmentary changes and scarring.
What would you like to print?