Overview
Background
Exposure to aquatic life encompasses a variety of clinical situations. Dermatologists usually encounter patients with erythema, blisters, wheals, edema, scars, pigmentary changes, and paresthesias (see an example shown below). Whereas the circumstances under which they occur and the distribution of these injuries can be characteristic, most of these lesions are not specific.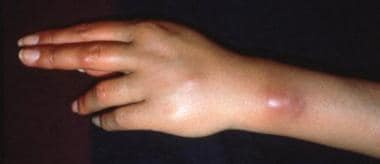 Mycobacterium marinum infection. Courtesy of the Department of Dermatology, UTMB at Galveston, Texas.
Cutaneous exposure to marine life occurs not only in the water but also when encountering living or dead marine animals on the beach. Commercial and recreational activities (eg, commercial or recreational fishing, beach combing, snorkeling, scuba diving, fish processing) have their specific concerns. Note that exposure to aquatic life can accompany various hobbies (eg, the keeping of saltwater fish tanks) or merchandising activities (eg, sellers of fish tank equipment of tropical fish). [1, 2] Exposure to freshwater life can also cause cutaneous injuries, sometimes manifesting with skin lesions similar to those caused by saltwater life. Ingestion of microorganisms can also cause cutaneous manifestations, some of which are of rapid onset.
Treatment of the severe acute sequelae of exposure to hazardous marine animals (eg, cardiorespiratory arrest, anaphylactic shock, bleeding) is in the realm of emergency medicine. This article focuses only on the cutaneous sequelae of exposure to aquatic life. Some first-aid measures are briefly mentioned. For further details, see the following articles:
See Deadly Sea Envenomations, a Critical Images slideshow, to help make an accurate diagnosis.
Pathophysiology
The injuries can be grouped into several general categories. Overlap can also occur (such as when an abrasion also allows a toxin into injured skin or when microbes are inoculated into a puncture wound). Some of the injuries may be accompanied by bleeding and/or functional impairment of the affected area (eg, after extensive exposure to jellyfish tentacles, as shown below). Others, such as injuries followed by the exposure to venoms, can be very mild and self-limited but may also lead to fatal consequences.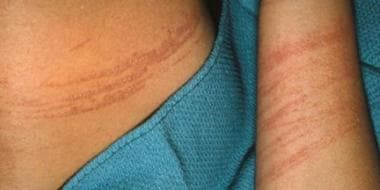 Jellyfish stings. Courtesy of the Department of Dermatology, UTMB at Galveston, Texas.
Mechanical injuries without infection
Wounds are caused by punctures (eg, sea urchin spine), bites (eg, octopus or fish), cuts (eg, coral), suction (eg, octopus), abrasions, and lacerations (eg, shells). In rare instances, the human body can sustain a fatal injury to a vital organ, as documented by the case of "Crocodile Hunter" Steve Irwin. A strange case of a catfish sting causing fatal myocardial perforation was also documented. [3]
Mechanical injuries followed by infection
Wounds become secondarily infected by either debris or microscopic organisms found in the water. Improper wound care (eg, rinsing injuries with seawater possibly loaded with microorganisms) can be a source of wound infections. Inoculation of infectious agents can commonly occur with penetration injuries or lacerations caused by sea urchin spine, stingray, seal bite, [4] or other bites (eg, octopus, fish). Depending on the depth of the inoculation and on the microorganisms inoculated, severe infections of the underlying tissues and structures can also occur. In addition to possibly evolving into severe systemic infection, such processes may lead to deformities and loss of function.
Mechanical injuries accompanied by the inoculation of a venom or a substance with sensitizing properties (eg, from sea anemone, sponges, scorpionfish, stonefish, lionfish, or stingray)
The most commonly encountered phylum in this regard is the Cnidaria. These are animals that exhibit radial symmetry. Their body walls contain a jellylike substance. This phylum includes fire corals, hydroids, Portuguese man-of-war, jellyfish, sea anemones, and true corals. Almost all of these possess nematocysts, frequently on a tentacle. The nematocysts contain a toxin that is injected into the skin.
The sequelae of envenomations depend on the species involved, the nature and quantity of the toxin, and the size of the injured person. Cutaneous reactions can be immediate (eg, wheals, vesicles, bullae, angioedema) or delayed hypersensitivity reactions. Complications include pain, postinflammatory hyperpigmentation, scarring, and contractions. Systemic reactions range from mild to severe (eg, cardiac arrest, anaphylactic shock). Two species of box jellyfish around Queensland (Australia) are known to produce venom with hemolytic, dermatonecrotic, and cardiotoxic components.
The Irukandji syndrome is caused by a small amount of venom leading to severe muscle cramps, back pain, and systemic signs and symptoms, including psychological phenomena. The Irukandji jellyfish is very small (<10 mm), but its tentacles can be 1 meter long. Whereas only a few fatal cases have been identified, the frequency and severity of jellyfish stings are significantly underestimated. [5] The length of the Irukandji season increased, but (possibly because of better beach management) the number of cases seems to decrease. [6] Underreporting of cases and very likely inconsistencies of classification can lead to difficulties in establishing effective and standard treatment. [7]
Cutaneous exposure to a dead animal or its parts (including tentacles drifted to beaches)
The lesions can be similar to those described in the above categories.
Invasion of the skin by organisms
Cercarial dermatitis (ie, clam digger's itch, swimmer's itch) is caused by Schistosoma organisms penetrating the unprotected skin.
Pyodermas and infections of the eyes, ears, or the urogenital tract
These can occur after bathing in contaminated water (eg, in areas where domestic or agricultural sewage mixes with water otherwise used for recreational activities), even in the absence of preceding mechanical injury. Existing wounds can become readily infected. [8]
Mixed or hard-to-classify manifestations
These include, for example, granulomatous processes that may actually be caused by a microorganism (eg, Mycobacterium marinum genome identified in some granulomas).
Toxins of dinoflagellates and algae can cause contact dermatitis and conjunctivitis. Ingestion of fish containing ciguatoxin may cause severe neurological manifestations (known as ciguatera), but dermatitis and pruritus are also described. Ingestion of pufferfish meat containing a potent neurotoxin (tetrodotoxin) is frequently fatal. [9]
Inhalation of coral vapor was described in a case series, resulting in respiratory and other systemic manifestations. [10]
Epidemiology
Frequency
Geographic area, season, and type of activity affect the prevalence of these injuries. With the increase of worldwide traveling, dermatologists may encounter lesions that would otherwise be unknown in their local area.
Race
Persons of any race can be affected.
Sex
Both sexes can be affected.
Age
People of any age can be affected.
What would you like to print?