Presentation
History
The Pityrosporum folliculitis patient's history is that of a chronic, often pruritic, papular and pustular eruption with perifollicular erythema most commonly on the back, upper arms, and chest.
The main differential diagnoses of Pityrosporum folliculitis are acne vulgaris and staphylococcal folliculitis. Often, patients have been treated with antibiotics or another medication appropriate for acne vulgaris, resulting in no improvement or worsening of their condition. [22] Recalcitrant acne should be reevaluated for potential Pityrosporum infection. [23]
A history of hospitalization may also play a role in initial colonization. [24]
Physical Examination
Multiple, discrete, 2- to 4-mm erythematous monomorphic, papules and, later, pustules are observed. Lesions have a definite follicular pattern. Material expressed from pustules is white to yellow.
Pityrosporum folliculitis is present on body locations in which Malassezia organisms are most abundant: back and chest, neck, shoulders, scalp, [25] upper arms (occasional), and face.
Under a Wood light, bright blue or white fluorescence is observed in clinically uninvolved follicles in the location of the lesions.
Dermoscopy may demonstrate perifollicular erythematous papules and pustules with "dirty-white" perilesional scale. [26]
Pityrosporum folliculitis often is mistaken for acne vulgaris; however, no comedones or cysts are associated with Pityrosporum folliculitis. [27]
Patients may also have coexisting seborrheic dermatitis. [21]
See the image below.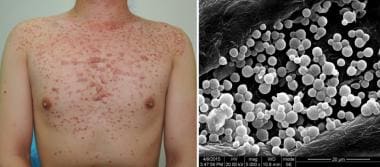 Left: A 25-year-old man with complaints of slightly pruritic, monomorphic follicular papules, pustules, and secondary keloid on the upper trunk and neck. Right: Scanning electron microscopy of the hair follicle from the upper trunk. This demonstrated a large number of globular or orbicular-ovate yeasts of budding daughter cell, with collar structure around the budding. Courtesy of Wikimedia Commons by Ran Yuping et al (https://commons.wikimedia.org/wiki/File:Pityrosporum_folliculitis_2.jpg).
What would you like to print?