Workup
Laboratory Studies
A potassium hydroxide (KOH) preparation may be helpful for microscopic identification of the yeasts associated with Pityrosporum folliculitis (PF).
Culturing and identification of the organism are rarely performed, and the tests usually are not available. For Malassezia yeasts to grow, olive oil must be added to the culture media. This is not a routine study for the mycology laboratory.
Shibata et al report the presence of galactomannan on cells of Malassezia species, which they suggest has not previously been reported in the literature. Results of their comparative antibody reaction studies lead them to suggest the potential for antigen detection as a diagnostic tool in Malassezia infection. [29]
Histologic Findings
The basic lesion observed at histologic evaluation is that of folliculitis. The ostium of the hair follicles is dilated, with keratin plugging, cellular debris, and an inflammatory infiltrate including lymphocytes, histiocytes, and neutrophils. Monocytic, perifollicular infiltrate, and mucin deposits are observed around the infundibulum. Some follicles may be cystic and ruptured.
Malassezia yeasts are observed in the central and deep follicle, but they are most densely present in the ostium and pilary canal. Periodic acid–Schiff (PAS) and Grocott-Gomori methenamine-silver staining reveal the oval single-budding yeast; however, these organisms can be observed without stain as well. No mycelial forms are observed with staining. Also detected are 2-4 µm PAS-positive spores in the entire follicle. Most often, spores are observed as aggregates. Both methylene blue and Parker ink staining have been suggested as useful to detect Malassezia; however, Parker ink is a more specific stain for the organism.
High titers of circulating immunoglobulin G antibodies against P ovale can also be detected in persons with this disease. [30]
Skin biopsy is usually reserved for the diagnosis of lesions that resemble Pityrosporum folliculitis but are located on surfaces where Pityrosporum folliculitis less commonly occurs. A diagnosis of Pityrosporum folliculitis in these unusual locations may indicate more severe disease. Early biopsy should be considered in patients with significant immunosuppression, such as those with AIDS, because the differential is much broader in these patients. [31, 32]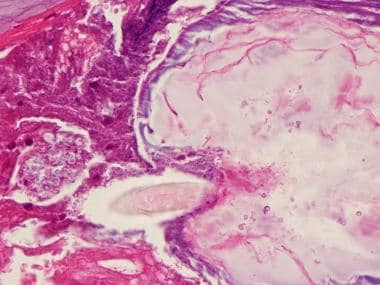 This photo is high-power hematoxylin and eosin staining of a biopsy confirming Pityrosporum folliculitis. There is a hair shaft within a hair follicle with scattered amphophilic staining circular Pityrosporum yeast. Courtesy of Ronald Rapini, MD.
What would you like to print?