Presentation
History
Most patients relate a history of a recent prick injury at the site of infection. Clinical disease usually becomes apparent within 3 weeks of injury; however, the interval from injury to apparent infection may be as long as 6 months. The injuries are attributed to a variety of causes, including rose thorns, hay, sphagnum moss, conifer needles, mine timbers, and infected cats. The characteristic skin lesion is a dermal or subcutaneous nodule that may ulcerate. As the infection spreads along the regional lymphatic chain, satellite nodules develop along with associated regional lymphadenopathy. The infection may disseminate to cause systemic disease. [1, 2, 3]
Physical Examination
Lymphocutaneous sporotrichosis is the most common presentation. Symptoms usually arise within 3 weeks of injury. A subcutaneous nodule develops at the site of inoculation and may ulcerate as the result of central abscess formation. Satellite lesions form along the associated lymphatic chain and lymphadenopathy subsequently develops. [1, 2, 3, 8, 9]
See the image below.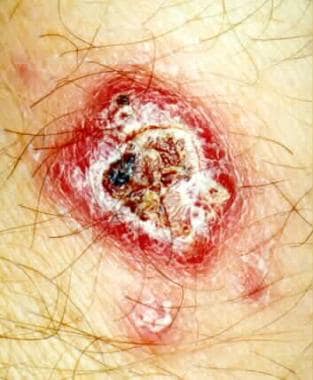 Close-up of an ulcerated nodule reveals the satellite lesions characteristic of lymphangitic (sporotrichoid) spread.
Fixed cutaneous disease also is known as nonlymphatic sporotrichosis. This appears as a scaly, acneform, verrucous or ulcerative nodule that remains localized. Satellite lesions and lymphadenopathy do not occur in this form of sporotrichosis. Fixed cutaneous lesions may rarely resemble pyoderma, rosacea, pyoderma gangrenosum, and keratoacanthomas. [1, 2, 3, 8, 9, 24]
Disseminated disease can result in pyelonephritis, orchitis, mastitis, arthritis, synovitis, meningitis, osseous infection, or, rarely, pulmonary disease. Cutaneous lesions can occur in the setting of disseminated infection. [1, 2, 3, 8, 9]
Clinical signs and symptoms may be blunted in the presence of elevated glucocorticoid states or systemic steroid therapy. Sporotrichosis in this setting has resembled erysipeloid cellulitis. [15]
What would you like to print?