Presentation
History
Infection often begins on the chin or neck, but in severely affected patients, tinea barbae may cover the entire bearded area of the face and neck, occasionally resulting in indurated verrucous plaques or nodules.
Tinea barbae may be asymptomatic; however, mild pruritus is characteristic. Spontaneous resolution of tinea barbae may occur, especially in inflammatory tinea barbae.
Lupoid sycosis, a deep form of tinea barbae, is so named because it may resemble lupus vulgaris. [21]
Physical Examination
Clinical manifestations of tinea barbae relate to the causative pathogen. Two clinical varieties of the disease are identified: inflammatory and noninflammatory.
Inflammatory deeper tinea barbae is caused primarily by zoophilic dermatophytes. This variety, termed a kerion, is the most common clinical presentation. Most patients show solitary plaques or nodules; however, multiple plaques are relatively common. Usually localized on the chin, cheeks, or neck, involvement of the upper lip is rare. The characteristic lesion is an inflammatory reddish nodule with pustules and draining sinuses on the surface. Hairs are loose or broken, and depilation is easy and painless. Pus-filled whitish masses involve the hair root and follicle. Over time, the surface of the indurated nodule is covered by exudate and crust. This variety of tinea barbae usually is associated with generalized symptoms, such as regional lymphadenopathy, malaise, and fever. Tinea barbae profunda may be due to a variety of fungi, including T mentagrophytes, A benhamiae, and M nanum. [8, 18, 22]
Noninflammatory superficial tinea barbae is caused by anthropophilic dermatophytes. This variety of barbae is less common and resembles common tinea corporis or bacterial folliculitis (sycosiform variety). [23] Typically, erythematous patches show an active border composed of papules, vesicles, and/or crusts. Hairs are broken next to the skin, or they plug the hair follicle. In the sycosiform variety, small follicular pustules are observed. Hairs are broken or loose. This variety represents a chronic variant of tinea barbae. Rarely, one may see tinea blepharociliaris associated with tinea barbae. [24]
See the images below.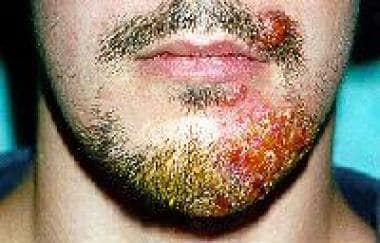 Inflammatory tinea barbae resulting from Trichophyton mentagrophytesvar granulosuminfection.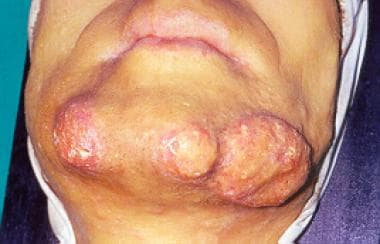 Wax model of kerionlike tinea barbae. Courtesy of the Museum of the Department of Dermatology, University of Medicine, Wroclaw, Poland.
What would you like to print?