DDx
Diagnostic Considerations
Also consider the following:
Tinea incognito

Bacterial folliculitis (see the image below)

Herpetic folliculitis

Pseudofolliculitis barbae

Nodular scabies

Follicular mucinosis

Poikiloderma with atrophy

Telangiectasia without scaling

Papular rosacea

Indeterminate leprosy

Kerion
Tinea incognito may appear as eczemalike, seborrhoeic dermatitislike, pyodermalike, and folliculitis to alopecia on scalp, trunk, and limbs. [35] The latter form may be represent some patients with Majocchi granuloma.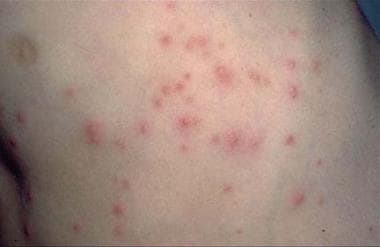 Pseudomonas folliculitis. Courtesy of Hon Pak, MD.
Differential Diagnoses
What would you like to print?