Periprocedural Care
Patient Education and Consent
Explain the procedure, risks, and benefits to the patient. Lateral or medial reduction is a safe and technically simple procedure. Obtain informed consent for the reduction (and the procedural sedation if necessary). To optimize successful rehabilitation, educate the patient regarding aftercare.
Equipment
No equipment is needed for the reduction.
A knee immobilizer, crutches, or both are needed for aftercare.
Patient Preparation
Anesthesia
Anesthesia is usually not required for this procedure, though some patients have significant anxiety and pain. Procedural sedation should be used as needed to maximize the patient's comfort during the reduction.
Positioning
Place the patient supine or with the legs hanging off the side of a gurney (see the image below).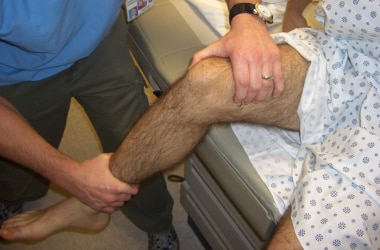 Positioning for lateral patellar reduction.
What would you like to print?