Presentation
History
Patients usually do not report discomfort, and they tend to not seek medical care until secondary infection or elephantiasis ensues.
Physical Examination
The disease appears at the site of a previous often unnoticed or unremembered trauma to the skin. After several years, a small, raised, erythematous, asymptomatic papule develops. As the chromoblastomycosis lesion develops over years, it assumes a scaly and infiltrated aspect, generally leading to either of the two most common clinical variants: nodular or plaque. In both types, the surface is verrucous, and lesions spread laterally to contiguous healthy tissue. Note the images below.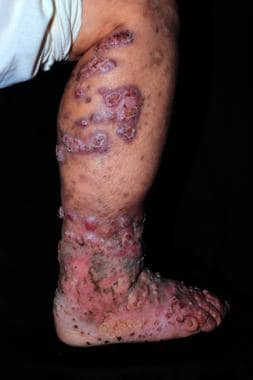 Chromoblastomycosis, tumoral form. Chronic disease led to elephantiasis and involvement of the entire lower limb.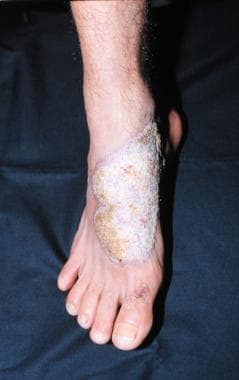 Plaque lesion on the foot. The verrucous aspect of the lesion differentiates it from other infectious dermatoses that may present as a verrucous lesion, namely, cutaneous leishmaniasis, sporotrichosis, cutaneous tuberculosis, and cutaneous mycobacteriosis.
In general, the disease remains localized to the area of the initial infection or neighboring skin, but lymphatic and hematogenous dissemination may occur, producing metastatic lesions away from the primary site. The nodular type of lesion normally develops into verrucous, pedunculated, cauliflowerlike florets, while the plaque type spreads peripherally, with an active, raised border, leaving a central healed area with atrophic and yellowish scar tissue.
On the surface of both types of clinical variants, numerous black dots may be observed where the causative organisms are preferentially found. Hemopurulent material covering small ulcerations is commonly observed.
Cutaneous localized annular chromoblastomycosis has been described as well-circumscribed, slow-growing, annular, papulosquamous or papulosquamous-verrucous patches or plaques with no regression despite the use of topical antifungals. [42] These plaques may be atrophic. [43]
Secondary infection with bacteria is common, giving the lesion a characteristic ill odor. Secondary infection is believed to be important in the genesis of lymph stasis and consequently of elephantiasis. In old cases, lesions in different stages of development can be found. Extracutaneous spread may occur rarely, due to hematogenic and lymphatic dissemination. Contiguous spread to the underlying bone may produce an osteolytic lesion. [44]
The sites most commonly affected are the lower extremities, especially the feet. The hands, the arms, and the buttocks are also frequently involved, and sporadic reports mention lesions on the ears, face, breasts, and axillae. [45]
Auricular chromoblastomycosis due to Fonsecaea pedrosoi, the most common agent found in Brazil, has been described. [46]
Morphological variants occur. Rarely, chromoblastomycosis may resemble sporotrichosis with verrucous nodules and a lymphatic distribution on the forearm expanding into verrucous plaques. [26] Chromoblastomycosis may also be evident as a large cauliflowerlike mass. [47]
Although it is most often evident ranging from a small ulcer, plaques, papulonodular lesions, or cauliflowerlike warty masses and cicatricial forms, it may rarely appear as a phagedenic ulcer on the face. [48] The dermatoscopic features can be variable, with red dots, white vague areas, black globules, and sandlike patterns sometimes evident. [36]
Complications
The most common complications of chromoblastomycosis are ulceration, secondary bacterial infection, lymphedema that leads to elephantiasis, and myiasis. [49]
Leech bites may predispose to bacterial infection.
Rare cases of malignant transformation (squamous cell carcinoma) of chromoblastomycosis have been documented. [50]
Cutaneous chromoblastomycosis with dissemination to brain has been described. [51]
Exophiala dermatitidis disseminated infection has been described as producing a fatal infection in an allogenic hematopoietic stem cell transplant recipient. [52]
What would you like to print?