Presentation
History
Most patients present to the physician because of cutaneous manifestations. Individuals suspected of having Cowden disease (multiple hamartoma syndrome) should be questioned carefully about other family members with malignancies, especially concerning the breast and thyroid. A more detailed family history, including other cutaneous and mucosal lesions and cancers, as well as the developmental and neurologic abnormalities, may be helpful. A full review of systems also is warranted.
Physical Examination
A baseline full physical examination with yearly follow-up examinations to help detect early changes resulting from malignancies is an essential component of Cowden disease (multiple hamartoma syndrome) patients' management. The physical signs that may be present with Cowden disease (multiple hamartoma syndrome) are discussed below.
Mucocutaneous surfaces
In 90-100% of patients, 1 of 4 types of mucocutaneous lesions is present.
Cutaneous facial papules are present. Most patients exhibit either flesh-colored, flat-topped lichenoid, or elongated verrucoid papules. The lesions may have a central keratin-plugged center and a diameter ranging from 1-5 mm. Typically, large numbers of lesions are present and have a predisposition for the periorificial region. Most of these lesions are trichilemmomas. Note the image below.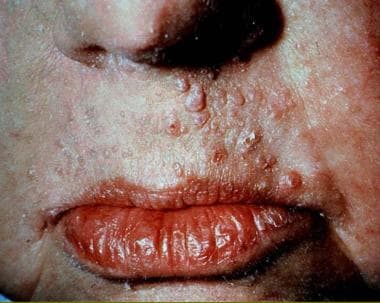 Multiple trichilemmomas in patient with Cowden disease.
Oral lesions are common. Papules are 1-3 mm with a smooth surface and a whitish appearance and are present in the gingival, labial, and palatal surfaces of the mouth in more than 80% of patients. Lesions often coalesce into confluent sheets, which are described as having a cobblestone appearance. Histologically, they are benign fibromas. Thickening or furrowing of the tongue (scrotal tongue) also may be present. Note the image of oral lesions below.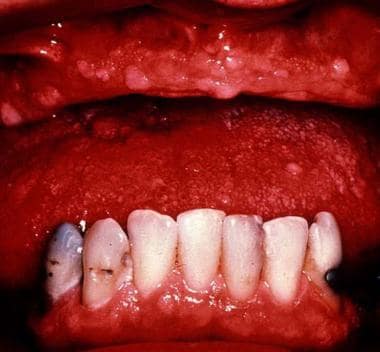 Multiple benign oral fibromas.
Acral keratoses are flesh-colored or slightly pigmented smooth or verrucoid papules on the dorsal hands and feet, and they occur in more than 60% of patients. The lesions must be differentiated from verruca plana and acrokeratosis verruciformis.
Palmoplantar keratoses are noted. Approximately 40% of Cowden disease (multiple hamartoma syndrome) patients have translucent punctate keratoses on the palms or soles. These need to be distinguished from benign keratoses and arsenic-induced keratoses.
Other cutaneous lesions may occur. Less frequently noted lesions include lipomas, neuromas, and hemangiomas and sclerotic fibromas. A report in 2006 documents multiple mucosal neuromas as the presenting sign of Cowden syndrome, adding this syndrome to the differential diagnosis list for multiple mucosal neuromas. [14] Multiple sclerotic fibromas are also documented by Requena et al as a cutaneous marker for Cowden disease (multiple hamartoma syndrome). [15]
An estimated lifetime risk for melanoma in patients with germline PTEN mutations has also been estimated at 6%. [16]
Head, nose, eyes, and throat
Findings may include macrocephaly (in as many as 80% of patients), adenoid facies, eye findings (in as many as 13% of patients, including angioid streaks, myopia), small jaw, and a high-arched palate.
Thyroid lesions
Abnormalities of the thyroid are present in approximately 60% of patients. Manifestations include goiter, benign adenomas, thyroglossal duct cysts, and follicular adenocarcinomas. Patients should be followed carefully for the development of thyroid carcinoma. [17]
Breast disease
Carcinoma of the breast occurs in 20-36% of female patients and is one of the most serious consequences of Cowden disease (multiple hamartoma syndrome). Carcinoma of the breast also has been reported in 2 men with Cowden disease (multiple hamartoma syndrome). [18] Fibrocystic disease and fibroadenomas are present in approximately 75% of patients.
GI tract
GI abnormalities are present in as many as 72% of patients. Polyps can occur in the esophagus, stomach, small or large intestine, or anus and are most common in the colon. Although Chen et al reported a few cases of adenocarcinoma of the colon in Cowden disease (multiple hamartoma syndrome) patients, the malignant potential of polyps is low. [19] Esophageal and gingival glycogen acanthosis has been documented in several patients with Cowden disease (multiple hamartoma syndrome). [20]
Genitourinary tract
The most common genitourinary tract manifestations are ovarian cysts and leiomyomas. The most serious genitourinary tract manifestation is endometrial cancer. One case of endometrial cancer has been reported in an adolescent. [21]
Teratomas, adenocarcinomas of the urethra and cervix, transitional carcinomas, renal cell carcinomas, and benign urethral polyps have been reported. In 2006, Woodhouse and Ferguson reported multiple bilateral hyperechoic testicular lesions in a small series of 8 male patients with documented PTEN mutations. Further testing indicated no effect on spermatogenesis or testicular function. Biopsies revealed lipomatosis in all but the youngest patient. [22]
Skeletal abnormalities
These include bone cysts, thoracic kyphosis, and kyphoscoliosis, as well as 1 case of osteosarcoma reported by Yen et al. [13]
CNS abnormalities
Lhermitte-Duclos disease (dysplastic gangliocytoma of the cerebellum) currently is considered to be part of Cowden disease (multiple hamartoma syndrome) and is caused by hamartomatous growths of the cerebellum. Patients have macrocephaly, slowly progressive cerebellar ataxia (which usually appears in adulthood), and signs of increased intracranial pressure. [23] Cases of Lhermitte-Duclos disease occurring without any other evidence of Cowden disease (multiple hamartoma syndrome) have been reported.
Seven reports in the literature describe meningiomas in patients with Cowden disease (multiple hamartoma syndrome). [24]
Diagnostic criteria
The Journal of the National Cancer Institute published updated diagnostic criteria based on a systematic review of Cowden disease and the PTEN hamartoma tumor syndrome. [25] The criteria published by the National Comprehensive Cancer Network in 2016 are described below.
Major criteria are as follows:
Endometrial cancer (epithelial)

Thyroid cancer (follicular)

GI hamartomas (including ganglioneuromas, but excluding hyperplastic polyps; ≥3)

Lhermitte-Duclos disease (adult)

Macrocephaly (≥97th percentile: 58 cm for females, 60 cm for males)

Macular pigmentation of the glans penis

Multiple mucocutaneous lesions (any of the following): (1) Multiple trichilemmomas (≥3, at least one biopsy proven), (2) acral keratoses (≥3 palmoplantar keratotic pits and/or acral hyperkeratotic papules), (3) mucocutaneous neuromas (≥3), (4) oral papillomas (particularly on tongue and gingiva), multiple (≥3), OR (5) OR biopsy proven OR dermatologist diagnosed
Minor criteria are as follows:
Esophageal glycogenic acanthosis (≥3)

Intellectual disability (ie, IQ ≤75)

Thyroid cancer (papillary or follicular variant of papillary)

Thyroid structural lesions (eg, adenoma, multinodular goiter)

Vascular anomalies (including multiple intracranial developmental venous anomalies)
Operational diagnosis in an individual (either of the following):
Three or more major criteria, but one must include macrocephaly, Lhermitte-Duclos disease, or GI hamartomas

Two major and three minor criteria
Operational diagnosis in a family where one individual meets revised PTEN hamartoma tumor syndrome clinical diagnostic criteria or has a PTEN mutation (any of the following):
Any two major criteria with or without minor criteria or

One major and two minor criteria or
Complications
Cowden disease (multiple hamartoma syndrome) is associated with increased risk of breast and thyroid malignancies. Other cancers have been reported in Cowden disease (multiple hamartoma syndrome), although the magnitude of the risk for those malignancies is not known. The following cancers have been reported:
Breast cancer in 25-50% of female patients and in 2 cases in male patients

Thyroid cancer in up to 35% of patients, follicular cancer more common than papillary

[16]

Colon cancer

Uterus (endometrial) cancer, 5-10%

Transitional cell carcinoma of the bladder (1 case)

Cervical carcinoma

Renal cell carcinoma (2 reports)

Insular thyroid cancer (1 report)

[26]

Osteosarcoma

Lung cancer

Non-Hodgkin lymphoma

Acute myelogenous leukemia
What would you like to print?