Overview
Background
Gardner syndrome, a variant of familial adenomatous polyposis (FAP), [1] is an autosomal dominant disease characterized by GI polyps, multiple osteomas, and skin and soft tissue tumors. Cutaneous findings [2] of Gardner syndrome include epidermoid cysts, desmoid tumors, and other benign tumors. Polyps have a 100% risk of undergoing malignant transformation (see the figure below); consequently, early identification of Gardner syndrome is critical. [3, 4]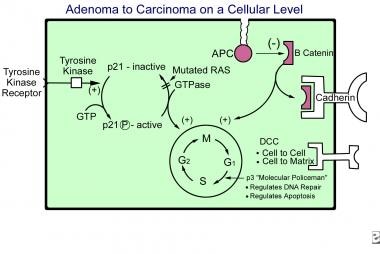 Adenoma-to-carcinoma sequence on a cellular level.
Pathophysiology
Gardner syndrome is genetically linked to band 5q21, the adenomatous polyposis coli locus. [5] FAP and Gardner syndrome are believed to be variants of the same condition. The wider spectrum of abnormalities found in Gardner syndrome may represent variable penetrance of a common genetic mutation. Novel pathogenic alterations have been described. [6] A novel large germline fragment deletion of the adenomatous polyposis coli (APC) gene was identified in a Chinese family with this syndrome. [7]
Etiology
The cause of Gardner syndrome is genetic, with autosomal dominant inheritance.
Epidemiology
Frequency
In the United States, one person per million population is diagnosed with Gardner syndrome. The incidence of FAP is 1 case per 8000 people. The most common cutaneous finding in patients with Gardner syndrome is epidermoid cysts (50-65%).
Age
Although colonic polyps begin to form in puberty, the average age at Gardner syndrome diagnosis is 22 years. Osteoma formation precedes polyposis. Usually, progression to malignancy is observed in patients aged 30-50 years. The average age by which malignancy is diagnosed is 39.2 years.
Prognosis
With adequate screening, long-term control of colorectal tumors is possible, with desmoid tumors determining the survival and quality of life for many patients. [8] Unless surgical transection is performed, GI polyps may progress to malignancy in almost 100% of Gardner syndrome patients (rates vary from 58-100% in studies). A genetic variant with an aggressive early childhood phenotype has been described. [9]
Patient Education
What would you like to print?