Workup
Approach Considerations
Early detection of neuroendocrine tumors (NETs) in patients with multiple endocrine neoplasia type 1 (MEN1) is very important and should be pursued systematically to promote better treatment options and improve the final prognosis as much as possible. Laboratory studies in patients known to have MEN1 are used to screen for the hormones associated with potential MEN1 tumors. [27]
The observation of multiple facial angiofibromas, collagenomas, and lipomas does not establish the diagnosis of MEN1. Rather, these cutaneous findings indicate the need for further testing for MEN1 (and/or tuberous sclerosis, depending on the overall clinical picture), including blood studies to examine for evidence of hormone hypersecretion and imaging studies to look for the presence of tumors.
DNA testing is available, but it identifies a mutation in only about 80% of patients with familial MEN1. [1] Mutation analysis may be used to confirm the clinical diagnosis, provide a genetic diagnosis in difficult cases, and screen asymptomatic family members. [28]
Procedures
Skin biopsy may or may not be required in multiple endocrine neoplasia type 1 (MEN1), depending on the clinical appearance, the physician's experience, and whether the skin findings are being used to help establish the diagnosis of MEN1.
Histologic Findings
The histologic features of angiofibroma in multiple endocrine neoplasia type 1 (MEN1) include dermal fibrosis, ectatic blood vessels, and stellate cells in the upper dermis, as shown in the image below.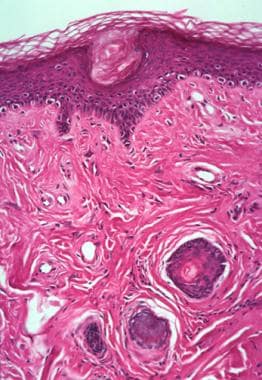 Light microscopic evaluation of a section of an angiofibroma shows prominent vessels and concentric rings of collagen around vessels and adnexal structures (hematoxylin and eosin, original magnification X100). These findings are indistinguishable from those observed in angiofibromas in patients with tuberous sclerosis.
The histologic features of collagenoma include increased amounts of collagen and normal or decreased numbers of elastic fibers, as shown in the image below. The features of the collagenoma may appear normal unless the biopsy sample includes surrounding healthy skin.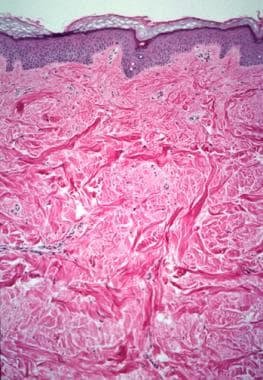 Histologic examination of a collagenoma reveals dense, thick collagen in the reticular dermis (hematoxylin and eosin, original magnification X40). An elastic stain showed reduced elastic fibers (not shown). Biopsy samples of collagenomas can be mistaken for healthy skin unless an elliptical excision containing surrounding healthy skin is obtained for comparison. The contrast with healthy skin accentuates the thickened dermis and collagen alterations seen in collagenomas.
The histologic features of lipoma include a circumscribed nodule of uniform adipocytes.
Imaging Studies
Conventional imaging is not useful for all types of MEN1-related tumors. However, researchers have found that 68Ga-DOTATATE PET/CT is useful in the workup of MEN1 because it provides a panoramic view of MEN1-related lesions. [29, 30]
What would you like to print?