Presentation
History
Most patients with calciphylaxis have a long-standing history of chronic renal failure and renal replacement therapy. On rare occasions, calciphylaxis may occur in a patient with chronic renal failure prior to the initiation of replacement therapy. Very rarely, it may occur in an individual without a history of renal failure.
Many persons who develop calciphylaxis have undergone renal allograft transplantation. The allograft may still be functional when calciphylaxis develops. Frequently, patients have been noncompliant with dietary, medical, and/or dialysis prescriptions prior to the onset of calciphylaxis.
Lesions of calciphylaxis typically develop suddenly and progress rapidly. Lesions may be singular or numerous, and they generally occur on the lower extremities (see image below); however, lesions also may develop on the hands and torso. Intense pain is a constant finding, likely related to vascular ischemia and cutaneous infarction.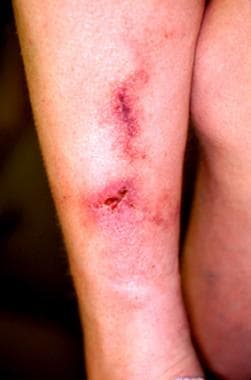 Several lesions of calciphylaxis that occurred on the lower extremity of a patient undergoing dialysis. These lesions developed in areas of livedo reticularis and followed the path of the vasculature.
The patient's history may reveal an event that is a suspected trigger or risk factor for the development of calciphylaxis. These triggers include the following [6, 9, 8, 21, 18, 19, 20, 24, 34, 35] :
Recent and sudden weight loss

Infusion of medications such as iron dextran

Remote and/or recent use of immunosuppressive agents, especially corticosteroids

Connective-tissue disease

Diabetes mellitus and insulin injections

Use of vitamin D and calcium-based phosphate binders

Concomitant vascular disease

Systemic hypercoagulability

Concurrent use of warfarin anticoagulation: Current data suggest that warfarin therapy may lower protein C concentrations, leading to a procoagulant condition in the calcified vessel. Warfarin may also inhibit carboxylation of matrix Gla protein, an important inhibitor of calcification, thus promoting calcification
Review of the patient's medical record usually reveals a history of hyperphosphatemia with hyperparathyroidism and hypoalbuminemia. [3] Patients with nonuremic calciphylaxis frequently have a history of primary hyperparathyroidism, malignancy, alcoholic liver disease, or underlying connective-tissue disease or pro-inflammatory condition. [21, 18, 22, 23, 36]
Physical Examination
Early lesions of calciphylaxis manifest as nonspecific violaceous mottling; as livedo reticularis; or as erythematous papules, plaques, or nodules. More developed lesions have a stellate purpuric configuration with central cutaneous necrosis (see the image below).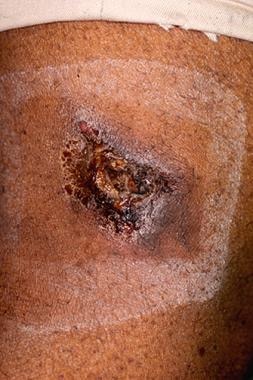 An isolated lesion of calciphylaxis manifesting as an enlarging necrotic plaque on the lower extremity of a patient undergoing dialysis. The stellate purpuric morphology can be appreciated surrounding the area of necrosis.
Multiple lesions of variable age may be present, following the path of the vasculature. Less commonly, lesions may manifest as either bullae (see the image below) or distinct subcutaneous, erythematous nodules suggestive of erythema nodosum. Lesions are excruciatingly tender and extremely firm.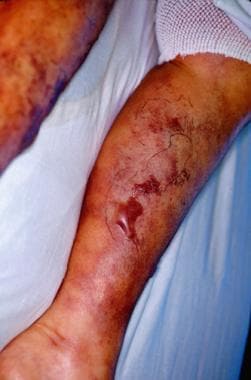 Calciphylaxis may manifest as rapidly progressive, diffuse and extensive, cutaneous necrosis, as is seen in this patient with chronic renal failure. Bullae may also be seen as a rare manifestation of calciphylaxis.
The distribution of the lesions may be characterized as proximal or distal. Ninety percent of lesions of calciphylaxis occur on the lower extremities. Distal lesions are those that occur below the knee; proximal lesions occur on the thighs or the trunk. Proximally distributed lesions occur in 44-68% of patients, with lesions developing predominantly on the thighs, the buttocks, and the lower part of the abdomen. Distal and visceral involvement are not uncommon.
An intact peripheral pulse helps to distinguish acral calciphylaxis from atherosclerotic peripheral vascular disease. Ulceration is considered a late finding and is associated with a higher mortality rate.
Complications
Complications of calciphylaxis range from moderate interference with activity to death. Lesions of calciphylaxis frequently result in nonhealing ulcers and cutaneous gangrene. Acral lesions may fail to heal with conservative therapy and lead to amputation. Sepsis may result from the nonhealing wounds.
Patients with internal involvement may develop gastrointestinal hemorrhage, infarction, or organ failure.
Patients treated with calcimimetics, sodium thiosulfate, and parathyroidectomy must be monitored for hypocalcemia. Those on sodium thiosulfate should be monitored for metabolic acidosis.
What would you like to print?