Workup
Laboratory Studies
The most common findings in one group of patients with CCE were an elevated erythrocyte sedimentation rate, blood eosinophilia, and rising serum urea nitrogen and creatinine values. Others have reported positive findings for antinuclear antibodies, rheumatoid factor, perinuclear antineutrophil cytoplasmic antibodies with antimyeloperoxidase specificity, and hypocomplementemia.
Imaging Studies
Angiography is useful for identifying arterial lesions that may represent the source of emboli. Studies should include the entire abdominal aorta with iliac, femoral, popliteal, and tibial arteries.
Some also recommend digital arteriography, which may demonstrate a sharp cutoff pattern representing embolization to digital arteries. Biplanar arteriography, including lateral projection, is recommended to detect anterior and posterior lesions that may be missed with the standard frontal projection.
Ultrasonography is a useful noninvasive method to assess for aortic aneurysms.
Transesophageal echocardiography can be especially useful in identifying thoracic aortic sources of CE but is limited in its ability to visualize the abdominal portion.
Other Tests
This diagnosis may be confirmed by funduscopic examination. [36] Ophthalmoscopy may reveal bright orange or yellow plaques in the retinal arterioles, representing CE.
Careful palpation of the abdomen and auscultation for pulsations, thrills, and bruits should be performed to assess for aneurysms.
Procedures
A skin or muscle biopsy is the most effective method used to diagnose CCE. Its efficacy has been proven in an autopsy study of 20 patients with confirmed CE. Random biopsy specimens from the gastrocnemius and quadriceps muscle groups were positive for emboli in 19 cases. Seven of 7 patients with clinical symptoms suggestive of CCE had a positive diagnosis antemortem after muscle biopsy. In a review of CCE, diagnosis was possible in 22 (92%) of 24 cases in which a skin biopsy was performed. Many have emphasized the need for deep biopsies (eg, incisional), in order to obtain vessels of sufficient size that are likely to be occluded with emboli, and the need for subserial sectioning of specimens. Note the images below.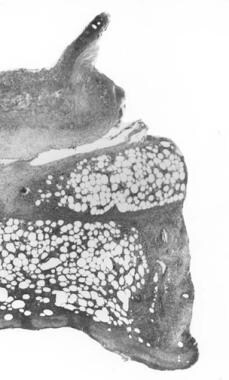 Skin biopsy specimen demonstrating ulceration and an occluded vessel at the right border of the specimen within the fat. Hematoxylin and eosin stain at 22X magnification.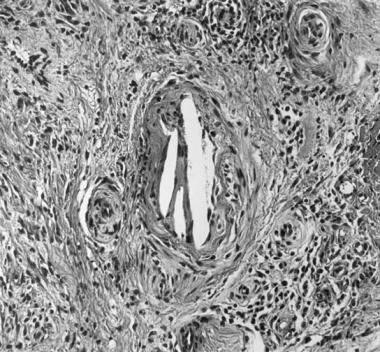 Higher magnification of the same biopsy specimen, demonstrating cholesterol clefts within an occluded arteriole. Hematoxylin and eosin stain at 297X magnification.
Percutaneous renal biopsy and endoscopic gastrointestinal biopsy are more invasive methods of diagnosing CE and are used in cases of systemic embolization.
Amputated limbs or toes can be scrutinized for emboli in the vessels.
Embolectomy specimens can also be examined for cholesterol crystals.
Although rare, cholesterol clefts have been found in bone marrow biopsy samples and remnants from prostatic curettage.
Histologic Findings
When examined with polarized light, cholesterol crystals in frozen section appear as birefringent rhomboids. They can also be identified by the Schultz modification of the Lieberman-Burchard reaction for cholesterol. Crystals are green within a few minutes and then brown at 30 minutes. Paraffin embedding used in routine histologic processing dissolves cholesterol crystals, replacing them with characteristic biconvex or lenticular clefts or spaces.
Emboli have been observed in the lumina of arteries ranging from 55-900 mm in external diameter but favor vessels in the 150- to 200-µm range. Initially, cholesterol clefts with or without hyaline material and rarely an aggregate of lipid-filled histiocytes are observed. Thrombosis superimposed on the embolus is variable. Shortly thereafter, reactive hyperplasia of the intima occurs with dense infiltration of the media and adventitia or surrounding tissue with neutrophils and, occasionally, eosinophils. Fibrinoid necrosis of the vessel walls and interruption of the internal elastic membrane are also variable findings.
In older lesions, the infiltrate is replaced by mononuclear and foreign body giant cells and prominent fibrosis. The crystals may persist, disappear, or extrude through vessel walls. In heavily infarcted areas, coagulative and early liquefactive necrosis of the epidermis, dermis, and panniculus may be observed.
While generally considered pathognomonic for CCE, the presence of intravascular cholesterol crystals has recently been described in biopsy and excision specimens of nonmelanotic skin cancers from patients with no evidence of CCE. The authors of one paper suggest that in such cases, this finding may be artifactual and perhaps related to wound healing.
What would you like to print?