Presentation
History
Patients with Jessner lymphocytic infiltrate commonly present with asymptomatic, nonscaly, erythematous papules or plaques predominantly on the face and neck, upper back, or trunk of several months' duration. [21] The lesions may be solitary or numerous. There are no known systemic manifestations.
Onset or exacerbation of lesions following sun exposure may or may not be noted. The lesions have also been observed to reappear at the original site or in previously unaffected areas. Some patients report burning or pruritus, and rarely, a familial occurrence has been noted. [4] The course of lymphocytic infiltration of the skin is variable and unpredictable, most often lasting months to years. Periods of remission and exacerbation may be observed, as well as spontaneous resolution. A history of active lesions involving covered skin or occurrence during winter months can be a helpful clue favoring a diagnosis of lymphocytic infiltration of the skin over polymorphous light eruption.
Physical Examination
Pertinent physical findings are limited to the skin. Note the images below.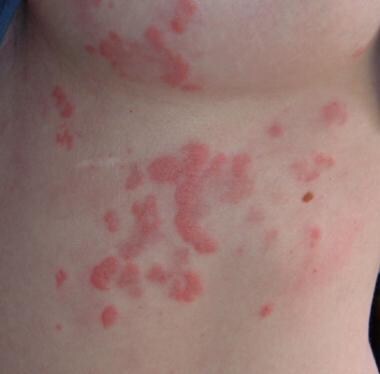 Jessner lymphocytic infiltration of the skin.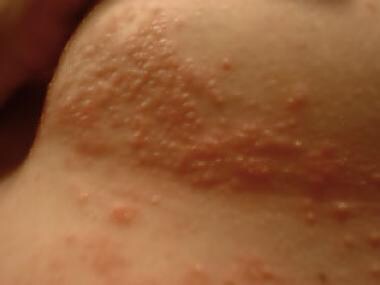 Jessner lymphocytic infiltration of the skin.
Primary lesions are as follows:
Lymphocytic infiltration of the skin usually begins as nonscaly erythematous papules, which expand peripherally, forming well-demarcated, slightly infiltrated erythematous plaques.

Central clearing may occur.

The surface of the lesions appears normal and, in particular, shows no follicular plugging or atrophy.

The size of papules or plaques varies from 2 mm to 2 cm in diameter, and they may be arranged in crescents or rings.

One, a few, or numerous lesions may be present.

After persisting for several months or several years, lesions usually disappear without sequelae, but they may recur at either the same sites or elsewhere.
Distribution is as follows:
The malar area of the face and the upper back are the most common sites of involvement. [22]

Other parts of the body may be affected as well, including the forehead, neck, mastoid region, arms, legs, chest, and abdomen.
What would you like to print?