Workup
Laboratory Studies
Nearly all patients with Kimura disease demonstrate peripheral eosinophilia and elevated levels of serum IgE. In one series, the number of eosinophils was closely correlated to the sizes of the neck masses. [37]
Blood urea nitrogen, creatinine, and urinary protein levels should be obtained to exclude concomitant renal dysfunction (especially nephrotic syndrome).
Serum eosinophil cationic protein levels parallel the course of the disease. [38]
Imaging Studies
The appearance of Kimura disease on imaging modalities, including CT scanning and MRI, is variable and is thought to be due, at least in part, to the variable degrees of vascular proliferation and fibrosis within individual lesions. However, diagnostic CT imaging of cervical nodes might be preferred over MRI by virtue of objective enhancement signal-intensity properties alone. Patients presenting with Kimura disease have been found to present intensely enhanced on CT (>120 HU) when compared with other common diseases affecting cervical lymph nodes. [39] One of the largest case series to date notes the characteristic findings to be multiple ill-defined, enhancing lesions around the parotid gland, with associated lymphadenopathy. [27]
Procedures
Incisional biopsy is recommended to obtain the diagnosis of Kimura disease.
Histologic Findings
Lymphoid nodules with discrete germinal centers can occupy an area extending from the reticular dermis to the fascia and muscle. Follicular hyperplasia, marked eosinophilic infiltrate and eosinophilic abscesses, and the proliferation of postcapillary venules are characteristic histological findings. [18] Centrally, thick-walled vessels are present with hobnail endothelial cells. Immunohistochemical evaluation of the lymphoid nodules demonstrates a polymorphous infiltrate without clonality. [12, 27] Reports have also demonstrated the presence of plasmacytoid dendritic cells in a lesion of Kimura disease. [40] Histopathological examination is an effective way to establish the diagnosis. [18, 19, 41]
See the image below.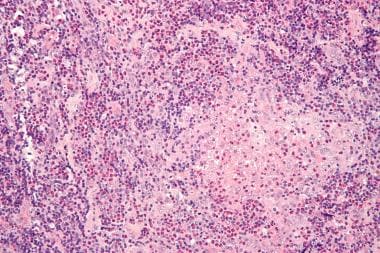 High-magnification micrograph of Kimura disease, hematoxylin and eosin stain. Thick-walled blood vessels with (plump) hobnail endothelial cells and abundant eosinophils. Courtesy of Nephron (own work) via Wikimedia Commons.
What would you like to print?