Workup
Approach Considerations
Immunohistochemical stains are usually required to facilitate differentiation between pseudolymphomatous eruptions and lymphoma. Although none of these tests is perfectly specific or diagnostic alone, they may be particularly helpful in supporting or refuting a diagnosis of lymphoma in the appropriate clinicopathologic context. PD1+ cells are more common in pseudolymphomatous folliculitis compared with marginal zone lymphoma. [26]
Before advances in immunophenotyping and gene rearrangement analysis, the diagnosis was based on histologic findings and benign clinical behavior. Clinical follow up for 5 years following initial skin biopsy had been accepted as confirmation of the diagnosis [9] ; however, both drug-induced pseudolymphoma and variants of cutaneous B-cell lymphoma, such as marginal zone, may have a similar indolent course.
In patients with borrelial pseudolymphoma, antibodies to Borrelia burgdorferi may be identified in 50% of cases. Additionally, the organism may be identified in tissue via polymerase chain reaction (PCR) analysis.
Routine laboratory results most often remain within the reference ranges and play a limited role in diagnosis. [5]
T-cell receptor gene rearrangement studies
PCR-based assessment of T-cell receptor gamma genes may be used to reveal a dominant clone of T-cells within a population. Because T-cell pseudolymphomas are most often polyclonal, demonstration of such a dominant clone favors a diagnosis of CTCL. Unfortunately, both rare monoclonal T-cell pseudolymphomas and polyclonal CTCL cases have been reported, thus decreasing the specificity of this assay. [11, 27] Thus far, the identification of clonality in pseudolymphoma lesions has not been predictive of lymphomatous transformation. [4, 17, 27] However, the detection of the same T-cell clone in two biopsy specimens from anatomically distinct body sites lends additional support for CTCL. [28]
B-cell receptor gene rearrangement studies
Polymerase chain reaction–based analysis of IGH gene rearrangements to identify B-cell clonality may also be helpful to differentiate cutaneous B-cell lymphomas from pseudolymphomas. [29]
Immunoglobulin light-chain analysis
Some subsets of B-cell lymphoma exhibit a monoclonal restriction to either kappa or lambda light chains. Because B-cell pseudolymphomas tend to be polyclonal, detection of such a light-chain clone by immunohistochemistry favors true B-cell lymphoma. [6]
Biopsy
Biopsy is necessary to establish a diagnosis of pseudolymphoma. An adequate sample extending well into the subcutis with avoidance of crush artifact is essential.
Histologic Findings
Pseudolymphoma can be extremely difficult to differentiate from lymphoma on histologic grounds alone. For example, lymphocytoma cutis, a variant of pseudolymphoma with formation of B-cell germinal centers, is difficult to differentiate from follicular center lymphoma histologically. Histologically, the infiltrate simulates B-cell lymphoma and shows a nodular inflammatory infiltrate in the dermis. An infiltrate containing well-formed germinal centers limited to the papillary and upper reticular dermis (top-heavy) favors pseudolymphoma, [4] although much more overlap exists between true cutaneous lymphoma (especially marginal zone type) and drug-induced cutaneous lymphoid hyperplasia. [18]
The key histologic features that favor pseudolymphoma over lymphoma include the presence of a mixed infiltrate that includes histiocytes, eosinophils, and plasma cells, in addition to lymphocytes. [30] The presence of tingible body macrophages, preserved and evenly spaced follicular dendritic cells (highlighted by CD21 immunohistochemical staining), preserved polarized germinal centers, and lack of BCL-2 staining favor pseudolymphoma, but clinical correlation and follow up is required for definitive diagnosis. [3]
See the images below.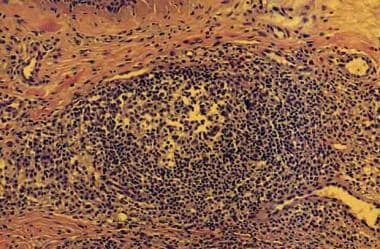 Biopsy specimens of pseudolymphoma vary substantially, but they most often exhibit a mixed inflammatory infiltrate with prominent lymphoid follicle formation.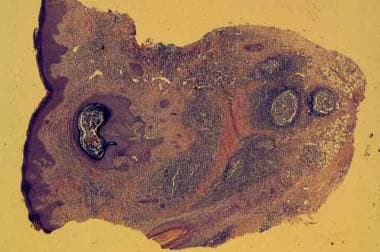 A mixed inflammatory infiltrate with germinal centers is indicative of lymphocytoma cutis.
Drug-induced pseudolymphoma most often resembles the bandlike T-cell infiltrate of mycosis fungoides (MF). [4, 5] Some cases show a T-cell histologic pattern with a bandlike infiltrate in the papillary dermis, predominantly of small lymphocytes, with variable epidermotropism. Epidermotropism, if present, is mild and generally lacks Pautrier microabscesses. Deep perivascular and periadnexal infiltrates may be observed. Dermal edema, acanthosis, and spongiosis may help to differentiate this condition from true CTCL. While similar in overall appearance, CTCL typically displays conspicuous epidermotropism and papillary dermal fibroplasia and exhibits minimal spongiosis. Close inspection of the lymphocytes to identify cerebriform cells is important because the predominance of these atypical cells in the epidermis favors MF. Although these features mimic MF, the clinical presentation is often characteristic. [9]
Additionally, MF has a CD3+ CD4+ CD7- immunophenotype. Most drug-induced pseudolymphomas also contain CD3+ CD4+ T cells; however, CD7 is often retained. Because CD7 is lost in some pseudolymphomas and because it is not universally absent in CTCL, the CD3+ CD4+ CD7+ phenotype is not 100% specific for pseudolymphoma. [9, 8, 11] Loss of CD5 and restriction of the epidermotropic cells to a CD4 phenotype favors MF.
In nodular drug-induced T-cell pseudolymphoma, nodular T-cell infiltrates may be either isolated or may appear concomitantly with MF-like lesions. They consist of small lymphocytes admixed with variable histiocytes, plasma cells, and eosinophils. Nuclear atypia, when present, is generally mild. [4] T-cell–rich angiomatoid polypoid pseudolymphoma (TRAPP) is a rare histologic manifestation of cutaneous T-cell pseudolymphoma, characterized by a polypoid lesions with prominent vasculature and a polyclonal T-cell infiltrate. [31]
When present, histologic evidence of foreign material such as tattoo pigment or organisms like scabies mites, tick parts, molluscum bodies, herpes viral inclusions, or Treponema pallidum spirochetes (by immunohistochemistry) would reveal the underlying cause of pseudolymphoma.
What would you like to print?