Presentation
History
Patients often present with an asymptomatic, slowly enlarging, erythematous, well-demarcated scaly patch or plaque. It may occur anywhere on the mucocutaneous surface. A delay in diagnosis of Bowen disease often is encountered because the lesion is asymptomatic; early skin changes may be subtle and overlap with clinical features seen in many conditions, such as tinea corporis, nummular eczema, seborrheic keratosis, [20, 21] Paget disease, superficial basal cell carcinoma, actinic keratosis, and psoriasis. A classic clinical history is presentation of a non–steroid-responsive dermatosis.
Physical Examination
Bowen disease presents as a single lesion in two thirds of cases. Lesions may appear on sun-exposed or covered skin. The head, neck, and extremities are the most commonly affected anatomic locations in men, while the lower limbs and cheeks are most commonly affected in women. [22] Lesions, as shown in the images below, vary in size from a few millimeters to several centimeters in diameter.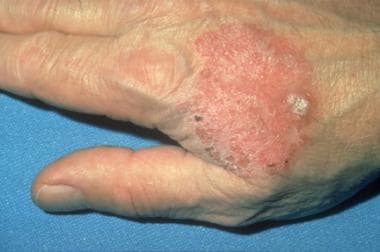 Squamous cell carcinoma in situ, Bowen disease. Courtesy of Hon Pak, MD.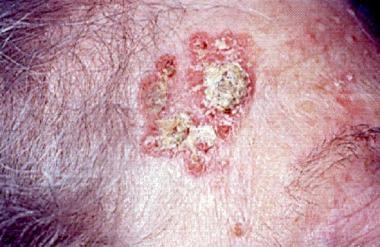 Bowen disease right temple.
A sharply demarcated, irregular border usually is present. Lesions are erythematous, scaly patches or plaques that may become hyperkeratotic, crusted, fissured, or ulcerated. Rarely, the lesions are pigmented, especially in the genital region and the nails. [23] Lesions in these locations may simulate melanoma. [24] Bowen disease also may occur on mucous membranes. When it arises on the glans penis, it is referred to as erythroplasia of Queyrat and presents as an erythematous, moist, velvety or smooth plaque, as demonstrated in the image below.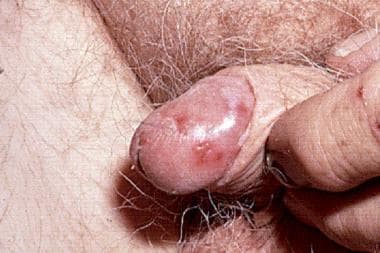 Erythroplasia of Queyrat, squamous cell carcinoma in situ of the glans penis.
What would you like to print?