Workup
Laboratory Studies
No blood test is available to help detect or diagnose dermatofibrosarcoma protuberans (DFSP).
Imaging Studies
In most cases of dermatofibrosarcoma protuberans (DFSP), no imaging studies are used unless metastatic disease is suspected after a thorough history taking and a complete physical examination. Note the following:
Dermoscopy is still evolving. A small study looking at 15 cases of DFSP found the median number of dermoscopic features was four per lesion. In the study, the following dermoscopic features were noted: delicate pigmented network (87%), vessels (80%), structureless light-brown areas (73%), shiny white streaks (67%), pink background coloration (67%), and structureless hypopigmented or depigmented areas (60%). When detected, vessels were of the arborizing type in 11 of 12 cases and presented as either unfocused only or both unfocused and focused. Further studies are still required to determine whether dermoscopy can help to identify suspected DFSP. [20]
Chest radiography may be ordered for baseline screening for pulmonary metastasis in high-risk cases, such as recurrence or suspicion for a fibrosarcoma variant of DFSP. [14]
Computed tomography scanning is indicated if direct bone involvement or metastasis is suspected. [1]
Studies support a role of magnetic resonance imaging (MRI) for preoperative assessment in larger or atypical lesions and recurrent disease. With its high soft tissue resolution and contrast, MRI may be helpful for defining the approximate tumor border and depth of invasion. [14, 21, 22, 23]
Ultrasonography may be helpful for monitoring local DFSP or regional lymph node metastasis.
Reports suggest fluorodeoxyglucose (FDG)–positron emission tomography scanning may be helpful in monitoring metastatic disease. [16, 24]
Other Tests
Although cytogenetic testing of dermatofibrosarcoma protuberans (DFSP) is not established as a standard workup, reverse transcriptase polymerase chain reaction (RT-PCR) and fluorescence in situ hybridization (FISH) are suggested as screening tools for the presence of COL1A1-PDGFB fusion gene prior to initiation of oral imatinib molecular-targeted therapy. [25] DFSP tumors lacking the classic t(17,22) translocation mutation seem to respond poorly to imatinib. [16, 25]
DFSP-FS (fibrosarcomatous variant) is a variant of DFSP that exhibits more aggressive behavior than DFSP, with lower recurrence-free survival and greater metastatic potential. As a result of the similar clinical presentation, it is necessary to have histopathological differentiation to determine prognosis. [26]
Procedures
A skin biopsy is essential for definitive diagnosis of dermatofibrosarcoma protuberans (DFSP).
Histologic Findings
In the plaque type of dermatofibrosarcoma protuberans (DFSP), slender tumor cells with large, spindle-shaped nuclei are embedded fairly uniformly in the collagen stroma, parallel to the skin surface. Mitotic figures are sparse. The more characteristic findings are seen in the nodular type. These findings include the high cellularity and irregular, short, intersecting bands of tumor cells forming a storiform pattern. Also typical are cells radiating from a central hub of fibrous tissue forming a cartwheel pattern. The degree of cellular atypia is higher in nodular lesions than in plaque lesions. Occasionally, DFSP may show focal fibrosarcomatous changes with a characteristic herringbone pattern. The cellular atypia is then even more prominent with hyperchromatic nuclei and more mitotic figures. [2, 18] Note the images below.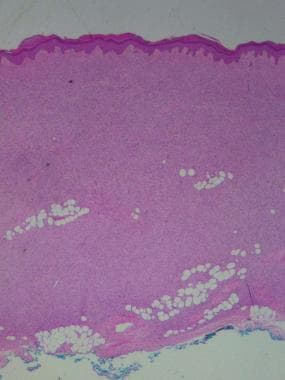 Dermatofibrosarcoma protuberans (DFSP) tumor cells take over the dermis and subcutaneous adipose tissue and then approach the fascia plane. The tumor nodule manifests with high cellularity. Under histopathologic examination, these DFSP tumor cells are spindle shaped. They tend to grow in a storiform pattern in the center portion of the tumor. They may also grow in a diffuse infiltrative pattern at the periphery, forming a honeycomb pattern. Often, no defined border can be recognized between the tumor and normal tissue.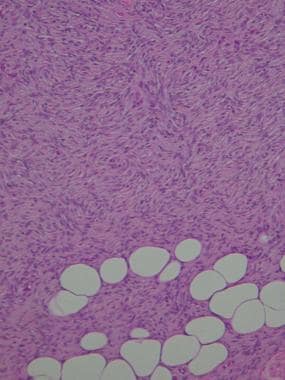 Higher-power view of dermatofibrosarcoma protuberans reveals subcutaneous adipocytes entrapped by densely infiltrative spindle-shaped tumor cells.
In the pigmented variant of DFSP, also known as Bednar tumor, the melanin-containing dendritic cells are scattered between the neoplastic spindle-shaped cells. [27]
In the juvenile form (giant cell fibroblastoma), cleftlike pseudovascular spaces are lined by multinucleated cells. The intervening tumor may have loose hypocellular areas and areas that resemble mature DFSP.
Immunohistochemistry studies have shown moderate-to-strong staining of human progenitor cell antigen CD34 in tumor cells. CD34 is a useful marker that allows differentiation of DFSP tumor cells from normal stroma cells and dermatofibroma. In dermatofibroma, tumor cells are positive for factor XIIIa and are rarely positive for CD34. Additionally, immunostaining using CD34 as a marker is helpful in identifying tumor cells at the surgical margins, particularly when treating recurrent DFSP in which tumor cell fascicles are often interspersed with the scar tissue. [28, 29] Note the image below.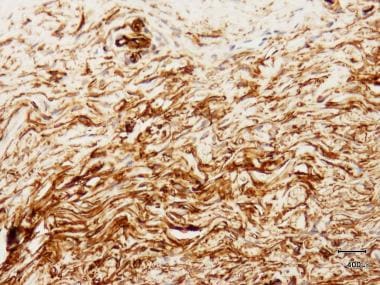 DFSP demonstrates strong CD34 staining with immunohistochemistry.
Staging
The American Joint Committee on Cancer has not developed a staging system for dermatofibrosarcoma protuberans (DFSP). Because of its very low risk of metastasis, DFSP can be viewed as mostly a local disease. The following simple staging system published in "Short German guidelines: dermatofibrosarcoma protuberans" may be helpful in clinical use [14] :
Stage I - Primary tumor, localized disease

Stage II - Lymph node metastasis

Stage III - Distal metastasis
What would you like to print?