Presentation
History
Merkel cell carcinoma typically presents as a rapidly enlarging, erythematous-to-violaceous nodule on the sun-exposed skin of an elderly fair-skinned individual. [3, 8] Approximately two thirds of cases present with cutaneous disease, and up to 26% of patients present with lymph node metastases. Interestingly, approximately 13% of patients presenting with nodal disease have no known primary cutaneous tumor, presumably reflecting regression of the primary tumor. [27] The primary skin lesion is generally asymptomatic, although sometimes tender. [3] Along with rapid growth, ulceration and/or hyperkeratosis can sometimes be seen. A 2019 report suggests that ulceration and hyperkeratosis may help predict the presence of Merkel cell polyoma virus (MCPyV)‒negative disease (80% of MCPyV-negative Merkel cell carcinomas and none of the MCPyV-positive ones featured ulceration/hyperkeratosis). [67] However, this association warrants additional research because of the small sample size (n=20). [67] Papules (with or without telangiectasia), plaques, cystlike structures, pedunculated lesions, pruritic tumors on the lower extremities, and subcutaneous masses are other dermatologic manifestations of Merkel cell carcinoma. [68, 69, 70] About 5-10% of Merkel cell carcinomas present in combination with scars or other skin neoplasms such as squamous cell carcinoma or trichoblastoma. [71, 72, 73] Mucosal Merkel cell carcinoma, albeit rare, has also been reported and exhibits more aggressive behavior than its cutaneous counterpart. [74]
Approximately 8% of patients present with disseminated disease. [50] These patients may have constitutional symptoms (eg, fatigue), localizing signs (eg, hemoptysis, neurologic defect, adenopathy secondary to metastasis), or both. The mnemonic AEIOU encompasses the five most common clinical features, as follows [75] :
Asymptomatic/lacking tenderness

Expanding rapidly (≤ 3 months)

Immunosuppressed

Over age 50 years

Ultraviolet-exposed site (location)
A high index of suspicion is required to diagnose Merkel cell carcinoma in an efficient and accurate manner. Owing to the nonspecific and varied clinical features, it is often clinically misdiagnosed as a benign lesion (cyst, chalazion, pyogenic granuloma, dermatofibroma). Histopathologic and immunohistochemical evaluation is required to confirm a Merkel cell carcinoma diagnosis.
Physical Examination
Skin - Primary lesion
Merkel cell carcinoma usually presents as a solitary, dome-shaped nodule or firm plaque (see image below).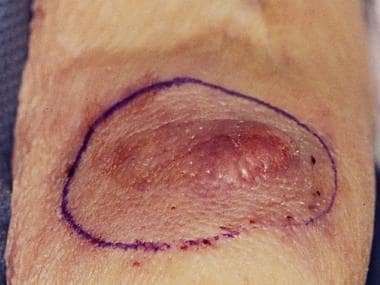 Large, violaceous nodule of Merkel cell carcinoma on the antecubital fossa. Courtesy of Dr. Jonathan Cook.
Most lesions are 1-2 cm in greatest dimension (43%), but they may be larger than 15 cm. [75] Lesions are typically red to violaceous, or they can be bluish purple or flesh-colored. The epidermal surface is often shiny, and telangiectases may be seen, suggesting atrophy. Ulceration may be present, which may be preferentially associated with Merkel cell polyoma virus (MCPyV)‒negative disease. [67]
Dermatoscopic features
Data on the dermatoscopic findings of Merkel cell carcinoma are limited, and dermatoscopic features specific to Merkel cell carcinoma have not been identified. However, findings from small retrospective series include linear irregular vessels, milky-red areas, and polymorphous vessels. [76, 77] Dermatoscopy is not likely to facilitate early diagnosis of Merkel cell carcinoma, as the findings are nonspecific. Histopathologic and immunohistochemical evaluation is required for diagnosis.
Skin distribution
Lesions characteristically appear on the head or the neck (43%), followed by upper limbs and shoulders (23.6%), lower limbs and hips (15.3%), trunk (10.9%), and other skin sites. [27] Any mucosal or cutaneous site can be affected.
Metastasis
Regional nodal metastases are usually the first site of dissemination. They may be detectable by palpation, which is the basis for the role of clinical lymph node evaluation in staging. Clinically and/or radiologically detected lymph node positivity [N1b] is identified clinically by means of palpation and/or imaging, and it is confirmed by pathology, whereas clinically occult lymph node disease is not palpable or visible on imaging (clinically node-negative), but is pathologically identified at sentinel lymph node biopsy (SLNB) [N1a(sn)] or following lymph node dissection (N1a). [51] Increased primary tumor size correlates with an increased risk for metastasis, although all Merkel cell carcinomas carry substantial risk for occult metastasis. In a 2016 literature review, [78] of 721 clinically node-negative patients who underwent sentinel node biopsy, 30% were positive for micrometastasis, supporting the use of SLNB for all such patients. [8, 52, 78]
The most common distant metastatic sites are liver, skin, bone, brain, and lung. [14, 79] The location of the primary lesion may be predictive of the location of metastasis. One study reports that primary tumors from the head and neck are more likely to metastasize to the liver. [79]
Complications
Complications secondary to metastasis depend on the anatomic sites of involvement.
What would you like to print?