Presentation
History
Merkel cell carcinoma generally presents as cutaneous disease only, but some patients present with evidence of regional or distant metastasis. The primary skin lesion is generally asymptomatic. Patients with disseminated disease may have constitutional symptoms (eg, fatigue), localizing signs (eg, hemoptysis, neurologic defect, adenopathy secondary to metastasis), or both.
Physical Examination
Skin/primary lesion
Merkel cell carcinoma usually presents as a solitary, dome-shaped nodule or firm plaque (see image below).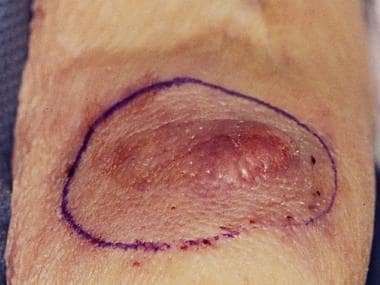 Large, violaceous nodule of Merkel cell carcinoma on the antecubital fossa. Courtesy of Dr. Jonathan Cook.
Lesions are most often smaller than 2 cm in greatest dimension, but may exceed 15 cm in diameter. They are typically red, violaceous, or purple. The epidermal surface is often shiny, and telangiectases may be seen, suggesting atrophy. Ulceration is uncommon.
Skin/distribution
Lesions characteristically appear on the head or the neck (about half of cases). Any mucosal or cutaneous site may be affected.
Metastases
Regional nodal metastases are usually the first site of dissemination. They may be detectable by palpation. Sentinel lymph node biopsy is effective in predicting the risk of regional recurrence; however, lymph node dissection does not appear to convey a survival advantage. [25, 26, 27, 28] Cutaneous metastatic deposits also occur.
Complications
Complications secondary to metastasis depend on the anatomic sites of involvement.
What would you like to print?