Presentation
History
Patients with mammary Paget disease (PD) present with a relatively long history of an eczematous skin lesion or persistent dermatitis in the nipple and adjacent areas. [18] Eczematous skin lesions are associated with several symptoms, including the following [19] :
Oozing with serosanguineous discharge

Some combination of the above symptoms
Early symptoms and signs of mammary PD include the following:
Resolution and recurrence of small vesicles within the skin lesion
Symptoms of pain, itching, and a burning sensation prompt patients to seek medical attention.
Physical Examination
Scaly, erythematous, crusty, and thickened plaques on the nipple, spreading to the surrounding areolar areas, are typical (see the images below). Axillary PD can arise from underlying axillary accessory breast tissue. [20]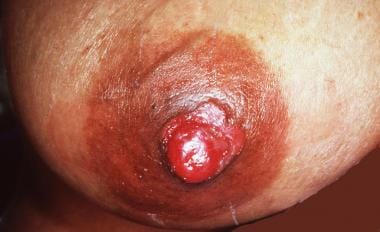 Biopsy-proven Paget disease involving nipple of 56-year-old woman. Patient noted erythematous, swollen, enlarged nipple with focal ulceration and oozing; occasional serosanguineous discharge and bleeding were present. Patient was later found to have palpable breast mass and mammography results positive for subareolar microcalcification; no auxiliary lymphadenopathy was found. Patient was treated by simple mastectomy. At 5-year follow-up, she was alive, without recurrent or metastatic tumor.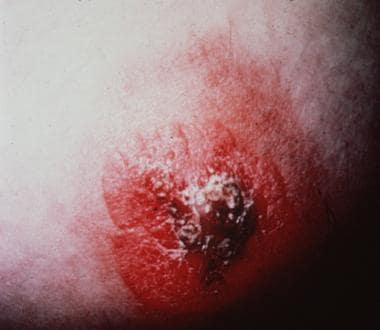 Mammary Paget disease (PD) affecting 48-year-old woman. Patient had experienced prolonged history of chronic eczematous dermatitis of nipple and areolar area for several years. Lesion did not respond to topical treatment, and it progressively distorted nipple with expansion into surrounding skin. Note markedly scaly, crusted, and deformed nipple with thickened, irregularly outlined adjacent nipple-areola complex. Excisional biopsy confirmed diagnosis of mammary PD. Patient developed infiltrating ductal carcinoma of underlying breast tissue with axillary lymph metastasis. She was treated by mastectomy and radiation. No metastatic tumor was noted in axillary lymph node. Patient was alive and well 3 years after treatment.
An erythematous patch in mammary PD is usually sharply demarcated and infiltrated (unlike eczematous dermatitis). Retraction of the nipple or the presence of palpable nodules indicates an underlying breast cancer. Serosanguineous discharge from the nipple may be present. Lesion size ranges from 3 mm to 15 cm in diameter; the mean size is 2.8 cm in diameter. Nipple invagination is sometimes seen (see the image below).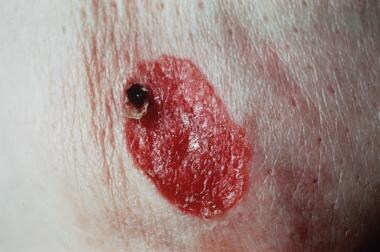 Nipple invagination, deformed nipple-areola complex, marked erythema, and alternating hyperpigmentation and hypopigmentation noted in adjacent skin of breast in 65-year-old woman with biopsy-proven Paget disease. Note focal scaling of previous biopsy site. Nipple changes were associated with intraductal carcinoma of breast. Patient was treated by conservative excision of lesion and lumpectomy for in situ carcinoma. No recurrence or metastatic disease was noted at 6-year follow-up.
Nipple changes are associated with an underlying carcinoma of the breast (ie, in situ, infiltrating ductal carcinoma) in more than 98% of patients; as many as two thirds of patients have a palpable breast tumor.
Unilateral involvement is the rule; however, bilateral mammary PD has occasionally been reported. [21] Rare cases of female patients with PD of supernumerary nipples have been reported. [22]
Pigmented mammary PD and pigmented extramammary PD are rare clinical entities in both males and females. These diseases may mimic malignant melanoma both clinically and histopathologically. They may also mimic melanoma on dermatoscopic examination. [23] In pigmented lesions of PD, increased numbers of benign melanocytes are present, which may interfere with the correct diagnosis of PD, resulting in misinterpretation of this condition as malignant melanoma. [24]
What would you like to print?