Presentation
History
Microcystic adnexal carcinoma (MAC) has an indolent onset, manifesting as an indurated plaque or nodule, often present for many years. MAC is usually asymptomatic, but it may be painful. Numbness, pruritus, paresthesia, or recalcitrant facial nerve palsy may be present in patients with perineural infiltration. [43]
Physical Examination
Note the possible physical findings for microcystic adnexal carcinoma (MAC) and the images below.
Appearance
MACs are skin colored, yellow, or pink. The most common forms are indurated plaques or nodules. Cystlike tumors have also been reported. The skin surface is usually smooth, but it may show some hyperkeratosis. It can also be atrophic and ill-defined.
Location
It is most commonly found in the head and neck region (85%), with a predilection for the nasolabial area (especially the upper lip) and the periorbital skin. [22] A left-sided facial preponderance was noted in a large US study, considered to be the result of uneven UV exposure while driving (US steering wheels are placed on the left). MAC has been found to occur in other locations, such as the upper extremity (8%), trunk (4%), and lower extremity (4%). [22] Involvement of the axillae, buttocks, scalp, nipple, [44] vulva, [14, 45] or genitalia [13, 46] is rare but has been reported. Lesions in non–sun-exposed sites may occur more often in persons of nonwhite ethic origin. One case of multiple primary MACs (21 total) of the trunk and extremities in sun- and non–sun-exposed areas, with sparing of the face, has been reported. [15]
Size
The average size range is 1-3 cm in diameter, [22] and median size is about 1.5-2 cm. [1, 21] One case series reported a pretreatment lesion size range of 0.03-16 cm. [1, 10] Actual clinical size determination can be difficult because of the tendency for extensive subclinical involvement.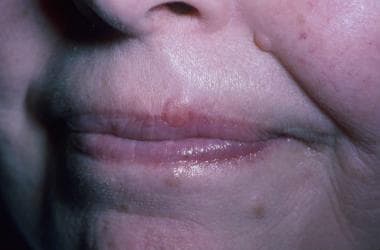 Clinical photo of a microcystic adnexal carcinoma on the left upper lip of an elderly woman. Note the close clinical resemblance to basal cell carcinoma. Courtesy of Dirk M. Elston, MD.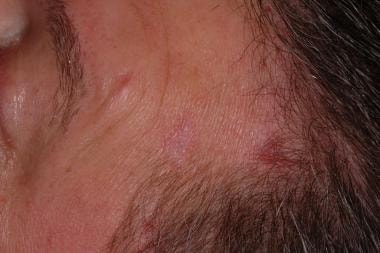 Note the subtle pink plaque on the left mid temple.
What would you like to print?