Overview
Practice Essentials
Microcystic adnexal carcinoma (MAC) is a rare, malignant appendage tumor commonly classified as a low-grade sweat gland carcinoma that typically occurs on the head and neck, particularly the central face. Microcystic adnexal carcinoma shows aggressive local invasion with rare reports of lymph node metastases. [1] The image below depicts MAC on the left upper cutaneous lip.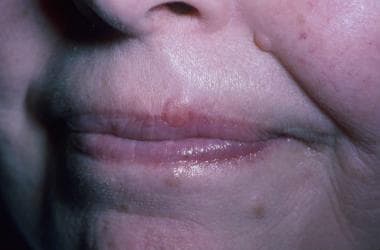 Clinical photo of a microcystic adnexal carcinoma on the left upper lip of an elderly woman. Note the close clinical resemblance to basal cell carcinoma. Courtesy of Dirk M. Elston, MD.
Background
Microcystic adnexal carcinoma (MAC) is a rare, malignant appendage tumor commonly classified as a low-grade sweat gland carcinoma that typically occurs on the head and neck, particularly the central face. Goldstein et al [2] described the first series in 1982, emphasizing the importance of its distinction from the benign histologic mimics, such as syringoma, desmoplastic trichoepithelioma, and trichoadenoma.
Despite subsequent widespread recognition of MAC as a discrete clinicopathologic entity, its precise relationship to and histologic discrimination from other putative locally aggressive sweat gland carcinomas (reported under a variety of names, including sclerosing sweat duct carcinoma, syringoid eccrine carcinoma, syringomatous carcinoma, and eccrine epithelioma) remains unresolved and has provoked considerable nosologic and diagnostic confusion. The authors regard MAC as synonymous with group 1 sclerosing sweat duct carcinomas as described by Cooper et al. [3] In addition, the tumor described as syringomatous adenoma of the nipple or sclerosing MAC of the oral cavity (also known as MAC-like carcinomas arising in the mucosal head and neck) is regarded by some authorities as MAC.
Pathophysiology
Little information is available on the molecular pathophysiology of microcystic adnexal carcinoma (MAC), although a genetic role is plausible. A case of MAC occurring in siblings further supports this possibility. [4] In one report using cytogenetic and fluorescence in situ hybridization, a deletion on arm 6q (q23q25) was found, which is a deletion found in other malignant salivary gland tumors. [5] DNA sequencing techniques have also discovered mutations in TP53 (found on chromosome 17), chromosomal losses in cyclin-dependent kinase inhibitor 2A (CDKN2A) (found on chromosome 9), and cyclin-dependent kinase inhibitor 2B (CDKN2B) (also found on chromosome 9) in a case of metastatic MAC. [6]
Furthermore, the differentiation pathway of MAC has provoked considerable debate. Goldstein et al [2] initially suggested that it showed dual pilar (the superficially located keratocysts resembling follicular infundibula) and eccrine differentiation. Others have supported this notion, noting, in particular, that the keratocysts often expressed pilar-type keratins and that occasionally, trichohyalin granules are present. However, some authors have suggested that MAC shows only eccrine differentiation. [7]
More recently, based on the ontogenetic relationship between hair follicles and apocrine glands, MACs have been theorized to display folliculoapocrine or sometimes folliculosebaceous-apocrine differentiation rather than folliculoeccrine differentiation. [1] Support for this premise is provided by occasional cases showing focal apocrine decapitation secretion and the demonstration of sebaceous features in some tumors. [8]
Moreover, the term "sclerosing microcystic adenocarcinoma" or "MAC-like carcinomas arising in the mucosal head and neck" has also been proposed for MAC arising specifically on mucosal surfaces, owing to the lack of adnexal structures in these areas as a potential source of tumor derivation. [9] However, differences may be explained by a single-cell origin, likely found in all locations (ie, eccrine), capable of variable differentiation with a potential to display eccrine, follicular, and apocrine features. Alternatively, more than one cell line (ie, salivary, eccrine, apocrine, adnexal epithelium) could also be capable of developing into MAC, where each cell line may or may not display eccrine, follicular, or apocrine features, but uniformly demonstrates ductal differentiation common to all MACs.
In the end, there appears to be a spectrum of histopathologic presentations of MAC, in which derivation could arise from various glandular and/or adnexal origins and differentiation being influenced by endogenous/genetic factors that have yet to be definitively determined.
Etiology
Therapeutic radiation (radiation therapy)
Approximately 19.5% (14 of 84) to 50% (5 of 10) of microcystic adnexal carcinoma (MAC) patients have had treatment with radiation therapy for a previous condition. [1, 4, 10, 11, 12] The average latency period is 30 years.
UV radiation
Long-term UV exposure has also been postulated as a predisposing factor for MAC, especially in view of its predilection for sun-exposed sites (ie, favoring the left side of the face, owing to suspected sun exposure while driving) and the skin of white persons. [13]
In persons of African American origin, in whom UV sun damage already plays a lesser role in cutaneous malignancy, one lesion occurred on the vulva of an African American woman [14] and multiple lesions arose on the trunk and extremities (with sparing of the face) of an African American man. [15] However, other reported cases in African Americans have occurred on the scalp [16, 17, 18] and upper cutaneous lip, [19] where sun exposure is expected. One case in a 6-year-old African American girl occurred on the left preauricular area, an area of known sun exposure, [20] but the age of onset would not suggest long-term UV light as a cause.
Its occurrence in sun-protected areas of whites [21] also suggests that UV exposure may not be the ultimate cause of MAC, but its predominant emergence on sun-exposed areas may indeed suggest a role.
Epidemiology
Frequency
Microcystic adnexal carcinoma (MAC) is a rare tumor, with only slightly more than 300 cases reported worldwide. [15] Thomas et al [22] reported a mean number of 1.63 cases per year in a rural northeastern area of the United States.
Race
Most cases (90%) of microcystic adnexal carcinoma (MAC) occur in whites, but it may occur in persons of other races such as Latinos and Asians. [23, 21, 24] Fifty-two cases have been reported in Japan. [25, 26] In African Americans, 10 cases in total have been reported in 9 patients. [14, 15, 16, 17, 18, 19, 20, 23] The overall clinical behavior of MAC appears to be similar in all races.
Sex
No significant sexual predilection is reported, although some studies suggest a slight female predominance. [4, 13, 21, 27]
Age
The age range is broad and has been reported from birth [28, 29] to age 90 years. [30] Most lesions manifest in the fifth to seventh decade of life. [4, 22, 21, 30] Median age is 68 years. [21]
Prognosis
Overall, the prognosis is good, especially when margin-control techniques such as Mohs micrographic surgery (MMS) are used, with a modest tendency for recurrence and a very low rate of metastases. Ten-year survival of patients with microcystic adnexal carcinoma (MAC) is equivalent to other patients of similar age without MAC. [21]
The largest series of cases reports an overall (combining results from simple excision and MMS) 10-year recurrence rate of 18%. Others have reported a 12% recurrence rate at mean follow-up of 39 months. [22] Recurrence in one case occurred 30 years after initial resection, making routine clinical follow up necessary. [31]
Although microcystic adnexal carcinoma is considered a nonmetastasizing tumor, rare reports detail histologically confirmed lymphatic spread. Of the more than 300 reported cases of MAC, only 10 have been metastatic. [6, 32, 33, 34, 35, 36, 37, 38, 39, 40]
Two deaths have been attributed to metastatic MAC. One patient presented with mediastinal lymphadenopathy and later died of the disease. However, no histologic evidence from the lymph nodes confirmed the cause of death. [38] The other death occurred from a MAC of the right-upper eyebrow that led to perineural spread though the orbit with central nervous system dissemination. [37] In another reported case of distant metastatic disease, the patient eventually died of aspiration pneumonia, not from the MAC itself. [39]
Mortality/morbidity
Morbidity is high because of the deeply infiltrating nature of the tumor, which can invade into bone, muscle, blood vessels, cartilage, and nerves. In one study, the mean clinical lesion size was 3 cm2, but the final defect size was 18 cm2, highlighting its occult extension. [22] Exquisitely rare orbital extension can occur, and a primary orbital presentation has also been reported. [41]
Mortality from metastatic disease is rare, with only six local [32, 33, 34, 35, 36, 37] and four distant metastases reported. [6, 38, 39, 40] Local metastatic disease, in most cases, may be occult contiguous extension along neurovasculature bundles. [35, 36, 37] Considering that more than 300 cases have been reported in the medical literature worldwide, [15] only two deaths have been attributed to MAC, [19, 37] both due to metastatic disease.
Of possible relation, Fernandez-Figueras et al reported a case of a high-grade carcinosarcoma with an architectural pattern similar to MAC but also exhibiting nuclear pleomorphism, hyperchromasia, and large nucleoli histologically. The patient developed metastatic lung disease from the tumor and died within 6 months. [42] The authors further noted histologic high-grade features in their case that were similar to other cases reported with metastatic disease, [19, 36, 39] and they suggested this may be an indicator for more aggressive disease. Whether the carcinomatous portion of this particular tumor represents an aggressive undefined adnexal carcinoma with an architectural pattern similar to MAC, a morphological variant of MAC with high-grade histologic features or even a squamous cell carcinoma with MAC-like differentiation, remains unknown.
What would you like to print?