Workup
Laboratory Studies
In middle-aged and older patients with extensive skin or severe skin and mucosal findings, a workup for internal malignancy is indicated.
The vast majority of cases are due to obesity and/or insulin resistance. Screen for diabetes with a glycosylated hemoglobin level or glucose tolerance test.
Screen for insulin resistance; a good screening test for insulin resistance is a plasma insulin level, which will be high in those with insulin resistance. This is the most sensitive test to detect a metabolic abnormality of this kind because many younger patients do not yet have overt diabetes mellitus and an abnormal glycosylated hemoglobin level, but they do have a high plasma insulin level.
Procedures
Skin biopsy may be useful if clinical diagnosis is not easily made.
Histologic Findings
Histologic examination reveals hyperkeratosis, papillomatosis, with minimal or no acanthosis or hyperpigmentation. The dermal papillae project upward as fingerlike projections, with occasional thinning of the adjacent epidermis. Pseudohorn cysts may be present. Clinical dyschromia is secondary to the hyperkeratosis and not to increased melanocytes or increased melanin deposition. Dermal inflammatory infiltrate is minimal or nonexistent.
Mucosal acanthosis nigricans reveals epithelial hyperkeratosis and papillomatosis along with parakeratosis. [1]
Note the image below.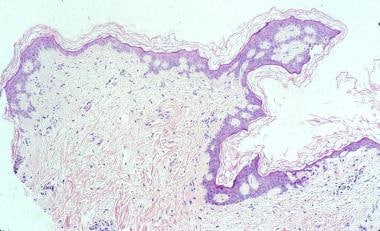 Acanthosis nigricans biopsy. The epidermis is papillomatous (undulates) and pigmented ("nigricans"). Acanthosis (thickening of the spinous layer) is often not really present, so acanthosis nigricans is often a misnomer in many cases.
What would you like to print?