Presentation
History
Patients have a history of refractory diarrhea, failure to thrive, irritability, dermatitis, and alopecia that gradually appeared shortly after weaning from breast milk. Occasionally, patients have a history of siblings or other family members with similar symptoms in infancy. [1] Only 20% of cases have all the components of the triad of dermatitis, alopecia, and diarrhea. [1]
Physical Examination
Physical signs and symptoms are as follows:
General: Infants are typically irritable and often inconsolable, and they show a slowing or cessation of growth and development.

Skin: Erythematous, dry, and scaly patches and plaques are present and may evolve into crusted, vesiculobullous, erosive, psoriasiform, and pustular lesions. Lesions are predominantly distributed in a periorificial and acral pattern and may become secondarily infected with Staphylococcus aureus or Candida albicans.

Mucosa: Findings include angular cheilitis, glossitis, conjunctivitis, blepharitis, punctate keratopathy, and photophobia.

Nails: Paronychia and nail dystrophy are typical.

Hair: Patients have loss of scalp hair, eyebrows, and eyelashes.
See the image below.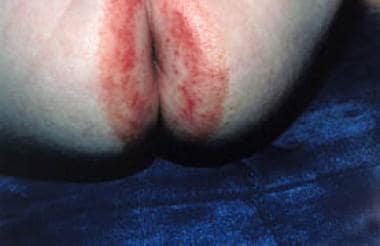 Sharply demarcated, brightly erythematous periorificial plaque in an infant with acrodermatitis enteropathica.
Complications
If untreated, the lesions of acrodermatitis enteropathica may become secondarily infected with Staphylococcus aureus and Candida albicans. Additionally, high-dose zinc supplementation occasionally causes gastric upset and can adversely affect copper metabolism. [21]
What would you like to print?