Presentation
History
Although it is usually an isolated finding, lichen amyloisosis may be associated with multiple endocrine neoplasia type 2A (MEN 2A), primary biliary cirrhosis, systemic lupus erythematosus (SLE), and Sjogren's syndrome.
The classic presentation of lichen amyloidosis includes multiple pruritic, hyperpigmented, hyperkeratotic papules that may coalesce to form plaques in a rippled pattern. The most common site is the shins and lower limbs, but involvement of the upper extremities and trunk is possible. [11, 14] (See the image below.)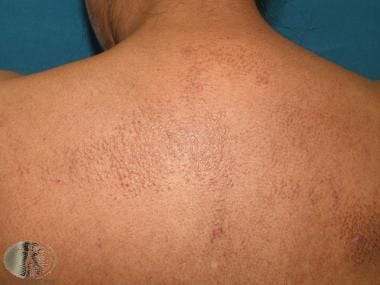 Lichen Amyloidosis. Courtesy of DermNet New Zealand (http://www.dermnetnz.org/assets/Uploads/systemic/amyloid1.jpg).
Physical Examination
The most common dermoscopic finding of lichen amyloidosis is a white central hub surrounded by various configurations of brownish pigmentation, including fine radiating streaks, dots, leaf-like projections, and bulbous projections. Additionally, the central hub may be replaced by a scar-like area (which may be the only feature in larger and thicker lesions), and a rim of white collarette (resembling a volcanic crater) may sometimes be present. [15]
What would you like to print?