Presentation
History
Patients may report having hard areas in the skin. A familial occurrence of Albright hereditary osteodystrophy may be present.
Physical Examination
The presentations of osteoma cutis can be highly variable, with clinical entities that are defined by the number, the form, and the location of the lesions. There are four clinical types: isolated, widespread, multiple miliary facial, and platelike osteomas. Hence, they may present as single or multiple hard nodules, miliary tumors, or plaques. [11, 5] The face, scalp, extremities, digits, and subungual areas are most commonly affected.
See the images below.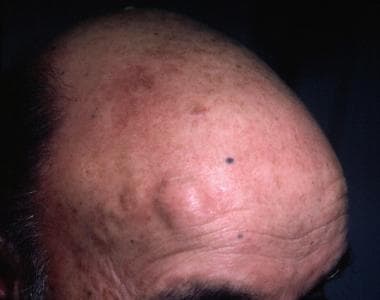 Solitary nodule on the frontal part of the scalp.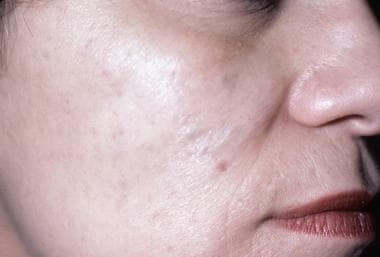 Miliary cutaneous osteomata. Multiple, small, bluish, stony-hard nodules in an acneiform distribution along the cheeks.
What would you like to print?