Workup
Approach Considerations
Rare and unusual situations can arise at times. Histologic evaluation has identified extramedullary acute leukemia (myeloid sarcoma) arising in an isolated preexisting osteoma cutis. [12] Biopsy and histologic evaluation are warranted in any unusual lesion or clinical situation.
Laboratory Studies
Serum calcium, phosphorous, and parathyroid hormone (PTH) levels help to define Albright hereditary osteodystrophy.
Imaging Studies
Plain radiographs demonstrate lesions but are not necessary for diagnosis.
Procedures
Excisional biopsy can be performed for diagnosis, relief of discomfort, and cosmesis.
Histologic Findings
Small spicules to large masses of mature bone are found in the dermis or extend into the subcutaneous tissue. Spicules of bone may enclose areas of mature fat, recapitulating a medullary cavity, but hematopoietic elements are seldom observed.
See the images below.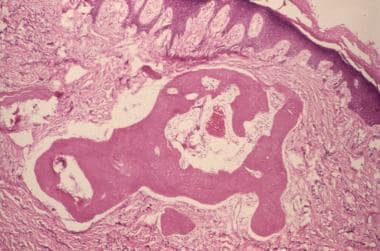 A microscopic view of osteoma cutis shows well-formed mature trabecular bone just beneath the epidermis. Note the absence of hematopoietic elements in the medullary spaces.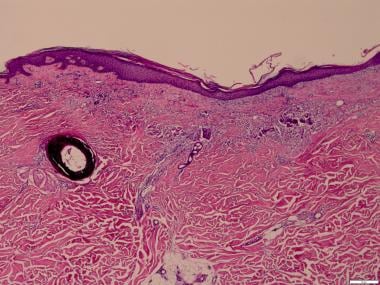 Osteoma cutis is often identified as an incidental finding on examination of re-excision specimens. This excisional specimen failed to reveal residual basal cell carcinoma, but an osteoma cutis was evident. Further examination reveals prominent calcification with only a very narrow rim of osteoid in the periphery.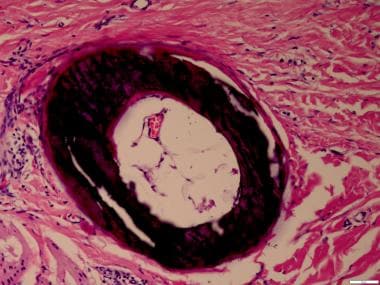 High-power examination reveals adipocytes centrally and a prominent calcified matrix surrounded by osteoid.
What would you like to print?