Workup
Laboratory Studies
Clinical suspicion alone is not enough to make the diagnosis of porphyria cutanea tarda (PCT), and it is confirmed by excess levels of porphyrins in the blood or urine. [38]
Urinary porphyrin levels are abnormally high in porphyria cutanea tarda patients, with several hundred to several thousand micrograms excreted in a 24-hour period. The excess porphyrin pigment is often grossly evident in visible light and yields a pink fluorescence under Wood lamp (black light) radiation (see image below).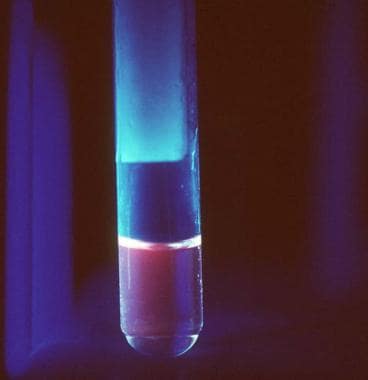 Fluorescence of urine with a Wood light examination. Courtesy of Brooke Army Medical Center Teaching File.
Chromatographic separation by carboxyl number of increased porphyrins present reveals a predominance of 8- and 7-carboxyl porphyrin fractions, with lesser amounts of 6-, 5-, and 4-carboxyl porphyrins, reflecting a uroporphyrinogen decarboxylase (UROD) defect. A similar array of polycarboxylated porphyrins can be found in serum or plasma specimens. The fecal coproporphyrin fraction is often abnormally high and largely consists of isocoproporphyrin. Erythrocyte porphyrin levels are in the reference range, except in hepatoerythropoietic porphyria, in which zinc protoporphyrin is elevated.
UROD enzyme activity assay in red blood cells is available in multiple laboratories in several countries, including the United States. Enzyme activity data may help determine patterns of inheritance in familial porphyria cutanea tarda and confirm the diagnosis in cases with confusing biochemical data.
Mutation analysis of genes encoding UROD is considered the criterion standard for diagnosis of familial porphyria cutanea tarda. It is most often available at specialized porphyria research centers and is commercially available in the United States. Molecular analysis for hemochromatosis gene (HFE) mutations may be positive.
A thorough evaluation requires determination of hematologic and iron profiles, including serum ferritin, liver function profile, and screening for hepatitis viruses and the human immunodeficiency virus.
Abnormal glucose tolerance and serum antinuclear antibodies are found more frequently among porphyria cutanea tarda populations. [19] Serum levels of ascorbic acid (vitamin C, a potent antioxidant) are deficient in some patients with porphyria cutanea tarda. [50] Alpha-fetoprotein presence in serum is useful to screen for hepatocellular carcinoma.
Imaging Studies
Evaluation of the liver for size, iron content, or tumors (most often found in individuals with long-standing active porphyria cutanea tarda) is indicated in selected cases.
Other Tests
Once a diagnosis is established, it is recommended to test for hepatitis C antibodies, HIV antibodies, and the presence of the HFE gene. [38] Novel noninvasive methods may be useful to assess hepatic fibrosis or cirrhosis. [51]
Procedures
Skin biopsy findings by light microscopy and direct immunofluorescence techniques may be consistent with a diagnosis of porphyria cutanea tarda but are not unequivocally diagnostic. Similar findings can be observed in other porphyrias and in pseudoporphyrias associated with certain drugs, intensive use of tanning beds or cabinets, or long-term dialysis therapy for renal failure. Direct immunofluorescence examination can help differentiate porphyria cutanea tarda from immunobullous diseases with dermoepidermal junction cleavage (epidermolysis bullosa acquisita, lupus erythematosus) in which the perivascular immunoglobulin deposition found in porphyria cutanea tarda is not observed.
Liver biopsy may be appropriate in selected patients to evaluate iron burden or damage due to ethanol abuse, viral infections, hemochromatosis, or suspected tumors.
Histologic Findings
Skin biopsy specimens of fresh blisters show subepidermal bullae with minimal dermal inflammatory infiltrate and dermal papillae protruding upward into the blister cavity (festooning); thickened upper dermal capillary walls and dermoepidermal basement membrane zones are evident in routinely stained sections and accentuated with the periodic acid-Schiff stain; elastosis, sclerosis of dermal collagen, and hyaline deposits may be seen in the dermis. [52] Linear, eosinophilic, periodic acid-Schiff–positive globules composed of basement membrane material and degenerating keratinocytes ("caterpillar bodies") may be observed in the blister roof. [53] Note the image below.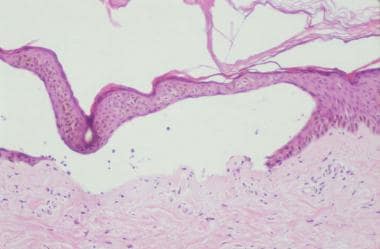 Subepidermal bulla, festooning of rete ridges, hyalinization of blood vessel walls, solar elastosis, and caterpillar bodies. Courtesy of Dirk Elston, MD.
Ultrastructural examination of dermal vascular walls and the basement membrane zone reveals replication of basal laminae, reflecting multiple episodes of damage and repair. [52, 54]
Direct immunofluorescence examination shows deposition of immunoglobulins and complement in and around the dermal capillaries and at the basement membrane zone. [52] These deposits do not indicate that porphyria cutanea tarda is an autoimmune disorder; they are believed to be immunoproteins leaked from the damaged vasculature.
Liver biopsy abnormalities range from minimal to severe. Increased iron deposition is frequently present. Other abnormalities may include steatosis, chronic inflammatory infiltrates, fibrosis, cirrhosis, and necrosis. Needlelike intracytoplasmic inclusions believed to be uroporphyrin crystals occur near ferritin iron deposits in hepatocytes. [55]
What would you like to print?