Presentation
History
The onset of pretibial myxedema (PTM) most commonly occurs 1-2 years after the diagnosis of Graves disease, but it may occur before or after the onset of thyrotoxicosis. PTM in the absence of Graves disease is uncommon. Most patients who develop PTM also have Graves ophthalmopathy, with the onset of dermopathy typically following the onset of ophthalmopathy by 6-12 months. The natural history of PTM is not well defined. Available data indicate that about 10-26% of patients eventually experience complete remission, and about 24% have partial remission. Rare cases of PTM without ophthalmology have been recorded. [10, 11]
Skin lesions or areas of non-pitting edema appear on the anterior or lateral aspects of the legs or in sites of old or recent trauma in patients with Graves disease.
Otherwise unexplained skin lesions or areas of non-pitting edema occur in patients with thyroid disease.
Physical Examination
A retrospective analysis of pretibial myxedema (PTM) patients revealed that the pretibial area was most commonly involved (99%), nonpitting edema was the most common form of dermopathy (43%), and the majority of patients had coexisting ophthalmopathy (96%). [4]
Thyroid acropachy occurs in 1% of patients with Graves disease. [12] It is clinically characterized by clubbing of the fingers and the toes, periosteal proliferation of the shafts of the phalanges and other distal long bones, and swelling of the soft tissues overlying affected bony structures. When present, acropachy usually follows dermopathy. Graves dermopathy and acropachy appear to be markers of severe ophthalmopathy. See the image below.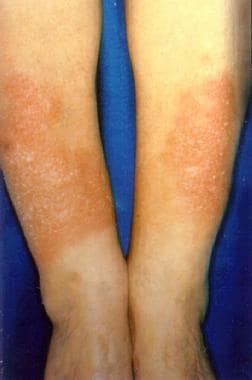 Bilateral erythematous infiltrative plaques in the pretibial areas.
Early lesions are bilateral, firm, nonpitting, asymmetrical plaques or nodules. Hair follicles are sometimes prominent, giving a peau d'orange texture. Areas of nonpitting edema may develop. In the elephantiasic form of PTM, lesions may coalesce to give the entire extremity an enlarged, verruciform appearance. Overlying hyperhidrosis or hypertrichosis may be present in these cases.
Lesions characteristically appear on the lateral or anterior aspect of the legs, but they may occur on the thighs, [13] the shoulders, the hands, the forehead, or any other skin surface. Lesions often occur in areas of recent or prior trauma or skin graft donor sites.
Lesions are characteristically shiny pink to purple-brown.
What would you like to print?