Workup
Laboratory Studies
Thyroid-stimulating hormone levels may be abnormally high, normal, or low in pretibial myxedema (PTM), depending on whether the underlying thyroid disease has been recognized and treated.
Thyrotropin receptor antibody (TRAB) levels are elevated in about 80-100% of patients with PTM. [15]
Histologic Findings
The characteristic histopathologic features consist of the deposition of mucin (glycosaminoglycans) throughout the reticular dermis and with attenuation of collagen fibers. Mucin may appear as individual threads and granules. With extensive deposition of mucin, the collagen fibers are frayed, fragmented, and widely separated. Stellate fibroblasts are often observed, but the number of fibroblasts is not increased. The overlying epidermis may show hyperkeratosis. The mucin is hyaluronic acid that stains blue with Alcian-blue at a pH of 2.5 and colloidal iron stains; metachromasia is shown with toluidine blue stain. Findings of mucin deposition restricted to an expanded papillary dermis, nodular angioplasia, and hemosiderin deposition are more suggestive of stasis dermatitis. See the images below.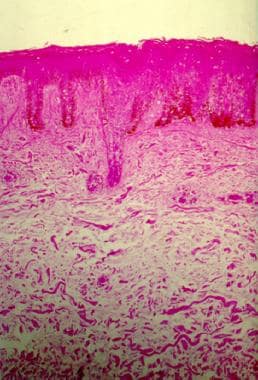 Deposition of mucin in the reticular dermis (hematoxylin and eosin stain, original magnification X25).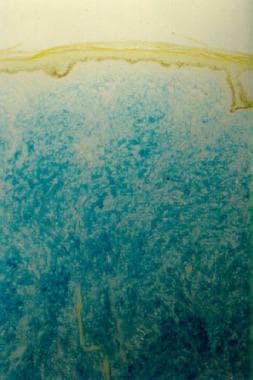 Blue staining of mucin with colloidal iron stain (original magnification X25).
What would you like to print?