Workup
Laboratory Studies
Primary hyperlipidemia is primarily a diagnosis of exclusion. Appropriate blood, urine, and radiographic workups are required to rule out a secondary cause of hyperlipidemia. Lipoprotein profiles are primarily used to assess cardiac risk and to aid in the diagnosis of lipid metabolism disorders.
Plasma levels of triglyceride, cholesterol, and HDL-cholesterol are measured following a 12-hour fast before venipuncture. Cholesterol and triglyceride levels are usually measured by enzymatic methods. HDL-cholesterol levels can be measured after the apoprotein B–containing lipoproteins (chylomicrons, VLDL, IDL, LDL, Lp[a]) are removed by polyanion-divalent cation precipitation. LDL and VLDL can then be calculated as follows:
LDL = Total Cholesterol Level – (Triglyceride Levels/5 + HDL Level)

VLDL = Triglyceride Levels/5*
*If triglycerides are greater than 700, the denominator is 10.
Chylomicrons, because of their high lipid-protein ratio, are less dense and form a creamy layer when plasma is left standing for several hours. Ultracentrifugation fractions can be electrophoretically examined for the presence of beta-VLDL and Lp(a). Quantification of apolipoproteins, particularly B and A-I, can be achieved by immunologic methods.
Lipoprotein patterns can be determined as follows:
I - Elevated triglyceride levels with increased chylomicron levels

IIa - Elevated cholesterol level because of increased LDL level

IIb - Elevated cholesterol and triglyceride levels because of increased LDL and VLDL levels

III - Elevated cholesterol and triglyceride levels, with the presence of beta-VLDL

IV - Elevated triglyceride levels because of increased VLDL level

V - Elevated triglyceride levels because of increased VLDL level and the presence of chylomicrons
The risk for cardiovascular disease can be determined on the basis of the total cholesterol, LDL-cholesterol, and HDL-cholesterol values in adults and children.
Genetic testing can detect the CYP27A1 gene that confirms cerebrotendinous xanthoma. Plasma cholestanol is a helpful diagnostic marker.
Imaging Studies
Ultrasonography and MRI may enhance the diagnosis of tendon xanthomas and are used for surgical planning. [84, 85, 86]
Positron-emission tomography/computed tomography may be used to detect disease extent and assess treatment response in cases of xanthoma disseminatum. [87]
Histologic Findings
All types of xanthomas in the skin and the tendons are characterized by the presence of large, vacuolated macrophages (xanthoma cell). These macrophages are filled with lipid droplets, which are dissolved and removed from the tissue during histologic processing. Lipid stains are of no use in routinely processed tissue. In contrast, frozen sections can be stained with lipid stains. Foamy histiocytes usually have one nucleus, but multinucleated histiocytes (Touton giant cells) are often identified. Xanthoma cells are positive with CD68, macrophage scavenger receptor-I, monocyte chemoattractant protein-I, CCR2, and oxidized low-density lipoprotein. [82] CD1a is typically negative.
See the image below.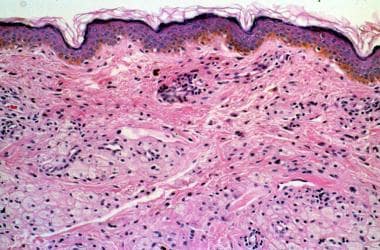 Microscopic image of a xanthelasma. The lesion is composed of lipid-laden macrophages located in the superficial dermis. Courtesy of Duke University Medical Center.
Eruptive xanthomas may contain infiltrates of lymphocytes and typically contain extracellular lipid. Rarely, eruptive neutrophilic xanthomas with prominent leukocytoclasis may occur. [88] Xanthelasma shows foam cells in the upper reticular dermis with overlying thin epidermis, characteristic of eyelid skin. Tendinous and tuberous xanthomas may contain prominent fibrosis and occasional cholesterol clefts. Verruciform xanthoma is histologically characterized by hyperkeratosis or parakeratosis with acanthosis, and often with a polymorphonuclear infiltrate. Red wedge-shaped areas of epidermal necrosis are characteristically present. [89] Epidermolytic acanthoma is rare but may occur. [90]
What would you like to print?