Workup
Laboratory Studies
Most laboratory testing for alkaptonuria detects the alterations in the urine. Increased urinary levels of homogentisic acid (HGA) are characteristic of this metabolic disorder.
Elevated levels of HGA in the urine, blood, and other tissues can be determined by specific enzymatic and colorimetric tests, direct spectrophotometric methods, high-performance liquid chromatographic testing, and molecular techniques.
Other simple urinary studies include darkening of urine with the addition of sodium hydroxide, black reaction with FeCl3, and blackening of photographic emulsion paper with alkali added to urine.
Imaging Studies
In patients with ochronotic arthropathy, radiography and MRI help identify characteristic and diagnostic features, including articular space narrowing up to osseous ankylosis, calcifications, osteophytosis, and reactive sclerosis of the articular surfaces. [31, 33, 34] Bone scintigraphy can be useful in evaluation, correlation with the clinical course, and follow-up of such patients. [35]
Chu et al point out that ankylosing spondylitis can present similarly to ochronosis on lumbar spine radiography. Both conditions may cause loss of lumbar lordosis and decreased intervertebral disc space. However, ochronosis can cause vacuum disc phenomenon with broad syndesmophytes and wafer-like disk calcification. Also, ochronosis does not typically affect the sacroiliac joint. [36]
Histologic Findings
Skin biopsy samples with hematoxylin and eosin staining reveal yellowish-brown–pigmented bodies in the dermis that represent altered widened elastic fibers, as well as in macrophages, endothelial cells, apocrine glands, and epidermal basement membranes. The deposits do not lose their pigmentation after 3 days in 10% hydrogen peroxide. Furthermore, the ochronotic pigment reacts with all routine stains for melanin. Such deposits can also be seen in cartilage and elastic tissue.
Exogenous ochronosis reveals ochronotic collagen fibers leading to the formation of ochronotic colloid milium. [37] The dermal cell infiltrate is variable but often granulomatous. Transfollicular elimination of these ochronotic fibers has been reported.
Experimental evidence has shown the presence of serum amyloid A (SAA) in several alkaptonuric chondrocytes, classifying alkaptonuria as a secondary amyloidosis. SAA in alkaptonuric chondrocytes has been shown to localize to actin, vimentin, and β-tubulin cytoskeletal proteins. [38]
(See the images below.)
Upon microscopic examination, amber-colored, oval structures are detected in the mid-to-upper dermal tissues (hematoxylin and eosin, original magnification X40).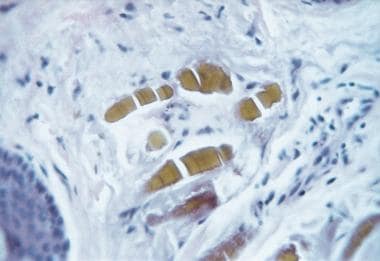 Upon higher magnification (of Image 3), ochronosis reveals homogenization and swelling of collagen bundles (hematoxylin and eosin, original magnification X100).
In a literature review including 11 exogenous ochronosis cases, solar elastosis was found in all cases. Histopathologic analysis using light microscopy revealed elastotic fibers transitioning to ochronotic bodies in all cases. Additionally, all ochronotic bodies were Verhoeff-van Gieson-positive. [39]
Although both the Dogliotti and Phillips classification systems are used to grade and stage exogenous ochronosis lesions, Ramia de Cap et al assert that these systems, while useful clinically, are not suitable for histopathologic grading. This assertion is due to the lack of consistent clinical-histopathologic concordance in exogenous ochronosis. [40]
What would you like to print?