Presentation
History
Owing to the long incubation period of Mycobacterium ulcerans, ranging from 1-9 months, with a mean of 4.5 months, most patients do not recall an inciting event. [36] Lesions usually begin as a single, painless, occasionally pruritic, dermal papule or subcutaneous nodule. Because the initial lesion is painless, many patients do not seek immediate medical attention. Suppuration and necrotic ulceration occurs within 1-2 months. Otherwise, the patients are generally healthy. Systemic symptoms such as fever or lymphadenopathy are rare owing to the immunosuppressive effects of mycolactone.
The peak incidence of cases is in March, typically in swampy areas, suggesting an association with rainy seasons in West Africa. [37]
Physical Examination
Classically, Buruli ulcers are considered an expanding ulceration on the lower extremity, although they can occur anywhere. Approximately 90% of lesions occur on the limbs, with 60% occurring on the lower extremities. Patients present with nonulcerative lesions in 0-30% of cases and with ulcerative lesions in 70-100% of cases. [38] See the image below.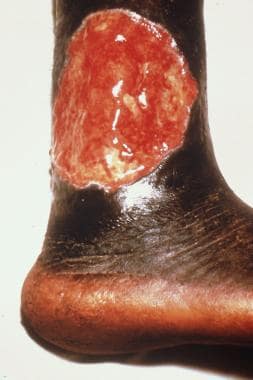 Well-circumscribed ulceration with sharp, undermined borders on the lower leg. Courtesy of Ronald E Grimwood, Jr, MD, Baylor Scott and White Health.
In the preulcerative stage, Buruli ulcer manifests initially as firm, nontender, subcutaneous nodule 1-2 cm in diameter. Less common presentations include a dermal papule or indurated plaque. A more aggressive edematous variant is frequently seen in Australia. The edematous variant causes a rapid onset of diffuse swelling, which can involve an entire extremity and evolves into an extensive ulcer. This is frequently misdiagnosed as cellulitis. [39]
The ulcerative stage occurs days to weeks later. The skin covering the plaque or nodule slowly sloughs, leaving an extensive necrotic ulcer with undermined edges. Subcutaneous necrosis may extend several centimeters beyond the edge of the ulcer; therefore, the lesion appears smaller than its actual size. Characteristic lesions have a scalloped border and a sloughing, necrotic base. The ulcers may appear yellow or green and have a characteristic smell. Pain and local lymphadenopathy suggest secondary infection. [40]
Buruli ulcers may destroy nerves, appendages, and blood vessels and may invade bone. Metastatic lesions may occur in the skin, soft tissue, or bone via spread through the vasculature or lymphatics. Approximately 33% of patients present with underlying osteitis, osteomyelitis, or joint involvement. [3] Interestingly, one fourth of the patients with M ulcerans osteomyelitis have no apparent history of cutaneous Buruli ulcer. [41] . Half of these patients have crippling sequelae. [41]
Healing is a slow process and may result in cosmetically disfiguring scars and functional disabilities if treatment is delayed.
What would you like to print?