Presentation
History
Papulonecrotic tuberculids present as papules, nodules, or pustules, which may become ulcerated and crusted. They arise in a symmetric fashion with a predilection for the extremities, particularly the upper limbs. Although described as affecting extensor surfaces, widespread involvement may be present. [5]
Lesions heal spontaneously within weeks; those ulcerated leave a varioliform scar.
New lesions form as older lesions resolve, giving the eruption a polymorphous appearance.
Oral lesions have not been reported to date.
Papulonecrotic tuberculids have been reported to coexist with lesions of erythema induratum, [16] as well as lichen scrofulosorum. [17] In several reports, cutaneous lesions resolved with appropriate antituberculosis therapy.
Physical Examination
Primary lesion
The characteristic initial lesions are 2- to 8-mm, erythematous papules that become pustules and undergo central ulceration forming hemorrhagic-crusted papules. See the image below.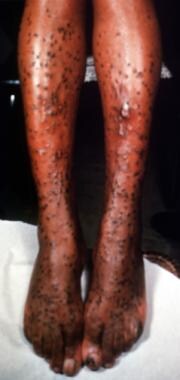 Bilaterally symmetric papulonecrotic lesions on the lower extremities.
Distribution
Lesions arise in symmetric crops, typically with an acral predilection. Characteristically, lesions develop over the extensor surfaces, particularly the knees, the elbows, and the dorsum of the hands and the feet, although widespread involvement may occur. Involvement of the glans penis has rarely been reported.
Color
Hyperpigmented to erythematous papules with central crusting are seen early, and the lesions generally heal with scarring.
Lymph nodes
In one study, as many as one third of the cases were associated with cervical lymphadenopathy, and some patients developed scrofuloderma.
Complications
Complications include significant varioliform scarring and those associated with tuberculosis infections, including progression to lupus vulgaris.
What would you like to print?