Workup
Laboratory Studies
Patients should be evaluated for evidence of active tuberculosis or other forms of mycobacterial infection. Tuberculous involvement of the female genital tract may account for the increased incidence in females, and a culture of menstrual fluid and endometrial biopsy may be of value in excluding occult disease.
CBC count, chemistry panel, and urinalysis should be performed.
The erythrocyte sedimentation rate is often very high and can be used to monitor treatment. It decreases 4-6 weeks after treatment is started.
Imaging Studies
Chest radiography is needed to rule out active or past pulmonary tuberculosis. Abdominal radiographs may show lymph node calcifications typical of tuberculosis.
Other Tests
Purified protein derivative (PPD) intradermal skin tests are usually strongly positive. Some authors require this result for diagnosis. However, false-negative negative results can occur in the setting of immunosuppression.
QuantiFERON®-TB Gold test can also be used to confirm latent tuberculosis infection, avoiding the risk of severe skin reactions that may occur with PPD testing. [19, 20]
Histologic Findings
The histologic features vary with the timing of the biopsy. In an early lesion, evidence of a vasculitis, which is typically leukocytoclastic with fibrinoid necrosis of the vessel wall and karyorrhectic debris, should be present. However, some authors have found that the primary lesion consists of lymphohistiocytic, rather than leukocytoclastic, vasculitis. It has been reported as a constant finding in a series of cases with the presence of a psoriasiform epidermal hyperplasia, as well as the presence of superficial and deep mixed inflammatory infiltrate including neutrophils and eosinophils. [5]
Characteristic of the disorder is the presence of perivascular spongy edema. Because of the obliterative vascular changes, a wedge-shaped area of dermal necrosis develops, surrounded by a granulomatous inflammatory infiltrate with giant cells and epithelioid histiocytes. Well-formed tuberculoid granulomas with Langerhans giant cells are not usually present in the lesions. Special stains for mycobacteria are typically negative.
The histologic differential diagnosis depends on the timing of the biopsy as well as the histologic appearance. In particular, inflammatory palisading granulomas (ie, granuloma annulare and infectious granulomas) may look similar as compared to those found occasionally in papulonecrotic tuberculid. However, the ability to exclude mucin and infectious organisms in effect rules out granuloma annulare and infectious granulomas, respectively. [21]
See the images below.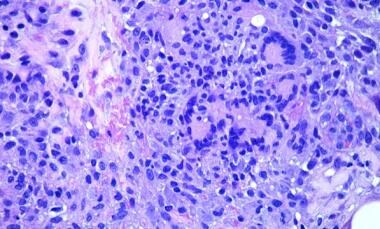 Papulonecrotic tuberculid. Multinucleated giant cells are noted within the granulomas. Courtesy of Prof Oscar Tellechea, MD, and José Carlos Cardoso, MD.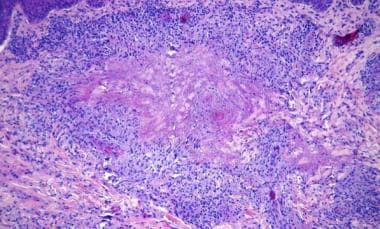 Papulonecrotic tuberculid. Higher magnification shows better detail of the area of necrosis surrounded by a granulomatous process. Courtesy of Prof Oscar Tellechea, MD, and José Carlos Cardoso, MD.
What would you like to print?