Overview
Background
Investigators have defined 30 facultative saprophytes and entities that are acid-fast mycobacteria but do not cause tuberculosis or leprosy. These mycobacteria or atypical mycobacteria exist in almost all habitats. The most common infection is the so-called case of fish tank granuloma, which is caused by Mycobacterium marinum (see image below) .Mycobacterium avium-intracellulare is the most common etiology of systemic disease in humans. Other types of mycobacteria are discussed in different Medscape Drugs and Diseases articles (eg, Mycobacterium Fortuitum, Mycobacterium gordonae). Other types of mycobacteria are discussed here.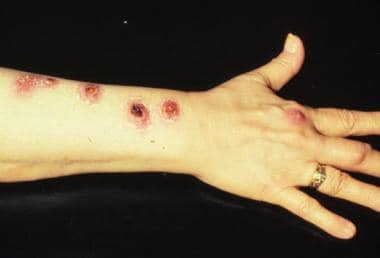 Mycobacterium marinum is an atypical mycobacteria found in water with a wide range of temperatures and salinities
Runyon proposed the following schema:
Group 1 - Photochromogens (eg, Mycobacterium kansasii, M marinum (see image above) , Mycobacterium simiae)

Group 2 - Scotochromogens (eg, Mycobacterium scrofulaceum, Mycobacterium szulgai, Mycobacterium gordonae)

Group 3 - Nonphotochromogens (eg, Mycobacterium malmoense, Mycobacterium xenopi, M avium-intracellulare)

Group 4 - Fast growers (3-5 d) (eg, Mycobacterium fortuitum, Mycobacterium chelonae, Mycobacterium abscessus)
M chelonae is an atypical fast-growing mycobacteria that is a rare cause of human infection. In 1996, Horsburgh [1] noted clinically important nontuberculous mycobacteria (NTMB), including M kansasii, M genavense, M marinum, M simiae, M scrofulaceum, M szulgai, M avium, M haemophilum, M intracellulare, M malmoense, Mycobacterium ulcerans, M xenopi, M abscessus, M chelonae, M fortuitum, and (rarely) Mycobacterium smegmatis.
Four clinical syndromes comprise nearly all cases: pulmonary disease, lymphadenitis, skin or soft tissue disease, and disseminated disease in AIDS. M avium and M intracellulare (known together as M avium-intracellulare complex) are the most common causes of pulmonary disease, lymphadenitis, and disseminated disease. All 4 clinical syndromes seem to be increasing in frequency, particularly in immunosuppressed hosts. Specific reservoirs of these organisms leading to human disease are still being found.
NTMB are acquired from the environment, but M abscessus is a rapidly growing mycobacterium found in soil and water throughout the world. Disease in patients who are immunocompetent usually consists of localized skin and soft tissue infections.
M kansasii occurs most commonly in Kansas, Texas, Illinois, England, and urban settings.
Mycobacterium peregrinum can result in skin infections. [2]
Pathophysiology
Infections with atypical mycobacteria usually occur in immunocompromised hosts due to host immunity and resistance factors. Pulmonary infections can occur in patients with impaired ventilation systems. These infections can also be introduced after surgery and through contaminated injections because atypical mycobacteria do not have the ability to pass through the mucosa or the integument.
Epidemiology
Frequency
Cutaneous infections with atypical mycobacteria are rare in the United States and worldwide. They are much more common in immunocompromised hosts, in particular those with HIV or leukemia or those undergoing immunosuppressive therapy.
Race
No apparent difference in race exists on the course of atypical mycobacteria infection.
Sex
Atypical mycobacteria infection is more common in men than in women. M kansasii infection is much more common in men than in women.
Age
Atypical mycobacteria infections are more commonly reported in older patients. This probably relates to the decline in health in such patients (eg, older patients who have smoked have poorer pulmonary function). Atypical mycobacteria diseases tend to affect adults and can rarely affect children. For example, a 6-year-old girl with a primary cutaneous form of M kansasii infection has been reported. She was successfully treated with surgical excision and oral erythromycin. The median age of patients with M kansasii infection is 43 years.
What would you like to print?