Overview
Background
Onycholysis is a nail disorder frequently encountered by dermatologists. Onycholysis is characterized by a spontaneous separation of the nail plate starting at the distal free margin and progressing proximally. In onycholysis, the nail plate is separated from the underlying and/or lateral supporting structures. Less often, separation of the nail plate begins at the proximal nail and extends to the free edge, which is seen most often in psoriasis of the nails (termed onychomadesis). Rare cases of onycholysis are confined to the nail's lateral borders.
See the images below.
Thumb onycholysis. Courtesy of DermNet New Zealand (http://www.dermnetnz.org/assets/Uploads/hair-nails-sweat/olysis1.jpg).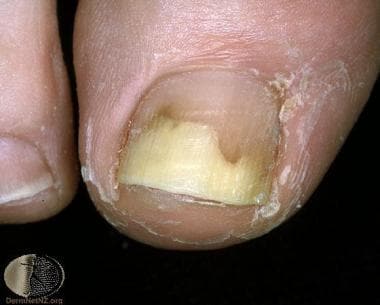 Great toe onycholysis. Courtesy of Professor Raimo Suhonen and DermNet New Zealand (http://www.dermnetnz.org/assets/Uploads/hair-nails-sweat/s/olysis7.jpg).
Pathophysiology
Nails with onycholysis usually are smooth, firm, and without inflammatory reaction. Onycholysis is not a disease of the nail matrix, but nail discoloration may appear underneath the nail as a result of secondary infection. When onycholysis occurs, a coexistent yeast infection is suggested. Treating primary and secondary factors that exacerbate onycholysis is important. Left untreated, severe cases of onycholysis may result in nail bed scarring.
Epidemiology
Frequency
The worldwide incidence of onycholysis is unknown.
Race
Distribution of onycholysis by race is unknown; however, onycholysis has been observed in persons of all races.
Sex
Individuals of either sex can have onycholysis; however, studies demonstrate an overwhelmingly female predilection.
Age
People of any age can present with onycholysis, although it primarily is a disease of adulthood.
Prognosis
Severe cases of onycholysis that are left untreated may result in nail bed scarring.
What would you like to print?