Presentation
History
The clinical history may be nonspecific because this is usually a painless growth. Patients may report a change in nail color or nail thickening. Prior history of onychomycosis may be important; however, this is not yet well established.
Other important information to inquire about in the history is previous trauma to the region and a family or personal history of cancer.
Physical Examination
Occurrence is predominantly (63%) on the fingers. [10] The percentage of lesions on the first, second, third, and fifth fingers is 37%, 15%, 37%, and 11%, respectively. [9] Multiple-digit occurrences in a single patient has been reported.
The following clinical tetrad has been reported: (1) xanthonychia, (2) longitudinal ridging, (3) splinter hemorrhage, and (4) notable overcurvature. Erythema and swelling of the proximal nail fold, tenderness with nail compression, and longitudinal melanonychia have also been seen. [10] Clinical presentation can be nonspecific and include pterygium. [6] See the image below.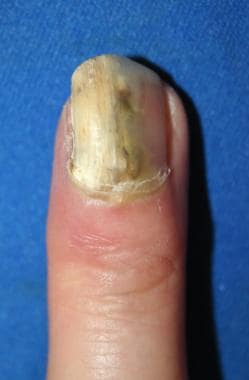 Courtesy of Dr. Militello.
The ventral nail may have woodwormlike holes. See the image below.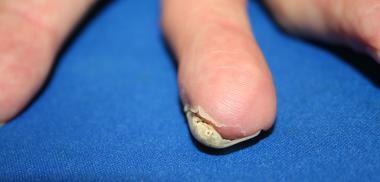 Note the woodworm-like features. Courtesy of Dr. Militello.
Nail avulsion exposes the filiform tumor arising from the matrix. Upon surgical removal or nail avulsion, the tumor has been described to have the macroscopic appearance of an "anemone." [12] This is due to the nail matrix having developed multiple filamentlike digitations that extend up and ultimately insert and protrude into the bottom of the proximal nail. As a result, the bottom of the proximal nail has multiple small holes that are visible and correspond to the matrix projections.
What would you like to print?