Presentation
History
Patients with confluent and reticulated papillomatosis are often asymptomatic, but they may experience mild pruritus. In a study of cases in Japan, 57.1% were asymptomatic, while the rest experienced pruritus. Eight of ten were without symptoms in a Lebanese survey [20] Patients observe reticulated and pigmented macules, patches, and plaques most commonly on the chest. [8]
One expects the following, proposed as diagnostic criteria: (1) scaly brown macules and patches, with some appearing reticulated and papillomatous; (2) involvement of the upper trunk, neck, or flexural areas; (3) negative fungal staining of scales or no response to antifungal treatment; and (4) favorable response to antibiotics. [21] Spontaneous regression may occur. [22]
Physical Examination
Physical findings of confluent and reticulated papillomatosis are limited to the skin, as shown in the images below.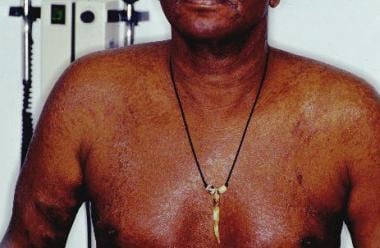 Grayish brown hyperkeratotic papules and plaques in a confluent pattern on the intermammary region with a reticular pattern peripherally.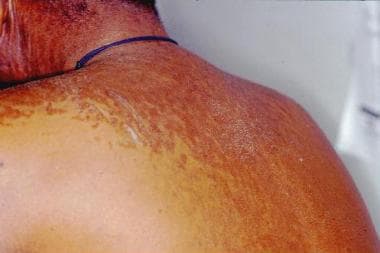 Close-up view of the interscapular area, again demonstrating a confluent pattern centrally and a more reticular pattern peripherally.
Primary lesion in confluent and reticulated papillomatosis
Lesions begin as slightly hyperkeratotic to warty papules that are 1-2 mm in diameter. They enlarge to 4-5 mm in diameter and coalesce to form a reticular pattern peripherally and confluent plaques centrally.
Skin markings are preserved and sometimes exaggerated, especially in the neck and the axillae, where the skin may be thickened. It has been described with vertically rippled and keratotic plaques [23] and as punctate pigmented papillomatosis. [24] The former have also been called linear pseudostriae and are characterized as a diagnostic sign. [25]
Atrophic macules rarely may be seen.
Scraping of lesions produces a fine powdery scale or mealy deposit.
Dermoscopic evaluation may show a brownish pigmentation with ill-defined borders, covered with white scales and a pattern of labeled "sulci and gyri". [26]
The color of confluent and reticulated papillomatosis is noteworthy; they are erythematous early and later evolve to grayish brown.
Distribution of lesions in confluent and reticulated papillomatosis
This autosomal dominant trait is characterized by many asymptomatic oval macules symmetrically distributed on axillae, groin, face, neck, arms, and trunk; scattered comedolike papules (dark dot follicles); and pitted acneiform scars. [27]
Confluent and reticulated papillomatosis usually begins on the skin of the intermammary or epigastric region, spreading over a period of weeks or months to the breasts, the lower abdomen, the flanks, and the pubic area.
In one case, lesions were entirely confined to the cheeks [28] ; in another case, lesions were entirely confined to the pubic area. [29]
The eruption may be found in the interscapular region, from which it spreads to the shoulders, the nape of the neck, and the gluteal cleft.
Involvement of the face and the proximal extremities may be seen. [30] It may also occur on the forehead. [31]
The mucous membranes are spared.
What would you like to print?