Workup
Histologic Findings
In confluent and reticulated papillomatosis, the epidermis shows compact hyperkeratosis, often associated with the presence of Pityrosporum yeast. Other features are less consistent and include a decreased or absent granular cell layer, papillomatosis, and a stratum spinosum that varies from acanthotic to atrophic. Because papillomatosis is an inconsistent feature, one paper has proposed changing the name of confluent and reticulated papillomatosis to confluent and reticulated papulosquamous eruption. This name is also less than perfect because most patients have little-to-no scale associated with the lesions. The dermis may contain a perivascular lymphocytic infiltrate.
On electron microscopy, some lesions demonstrate an alteration in the arrangement and the structure of cornified cells, an increased transitional cell layer, an increase in the number of lamellar bodies in the stratum granulosum, and an increased number of melanosomes in the stratum corneum. [65]
Immunohistochemical analysis shows suprabasal keratin 16 expression with intense focal staining in the stratum granulosum and an increased number of epidermal cells with Ki-67 binding in the basal layer and stratum malpighii. See the image below.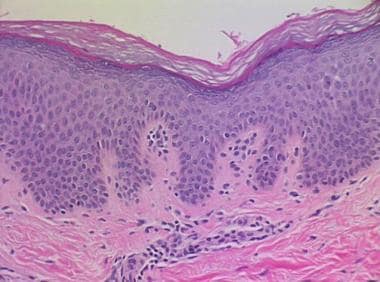 A biopsy specimen showing hyperkeratosis, papillomatosis, and a mild superficial perivascular inflammation (hematoxylin and eosin, original magnification X125).
What would you like to print?