Presentation
History
Onset of parapsoriasis is indolent. It develops from a few patches and becomes more visible over a protracted period of time. Additional lesions develop progressively in some individuals.
Small plaque parapsoriasis can last months to several years; the disease often resolves spontaneously.
Large plaque parapsoriasis is a chronic disorder that manifests in an indolent manner and progresses over many years, sometimes decades. It may progress to mycosis fungoides (MF), a cutaneous T-cell lymphoma (CTCL), after an indeterminate number of years.
Large plaque parapsoriasis does not enter remission without treatment.
Physical Examination
Lesions of small plaque parapsoriasis are well-circumscribed, slightly scaly, light salmon-colored patches that measure less than 5 cm in diameter and are scattered over the trunk and extremities. Digitate pattern is a distinctive form of small plaque disease that consists of palisading elongated fingerlike patches that follow the dermatome and are most prominently displayed on the lateral thorax and abdomen. [15] (See the images below.)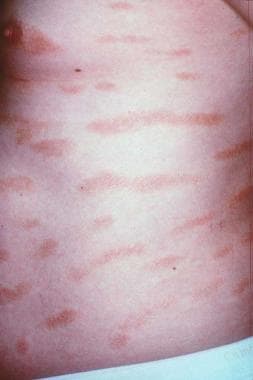 Small plaque parapsoriasis.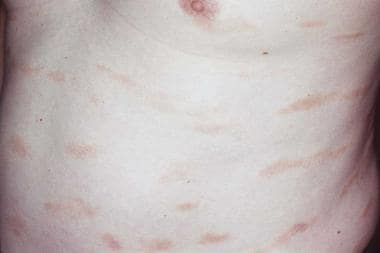 Small plaque parapsoriasis.
Large plaque parapsoriasis manifests as faint erythematous patches with arcuate geographic borders. Each lesion often is greater than 6 cm in diameter. Lesions are scattered on the proximal extremities and the trunk and often show a bathing-suit distribution. Surfaces of the lesions have a faint red-to-salmon color; show flaky thin scales; and have an atrophic, cigarette-paper or tissue-paper, wrinkling quality. (See the image below.)
Large plaque parapsoriasis.
What would you like to print?